If God Taught Spin Class
BY AMANDA KUEHN '09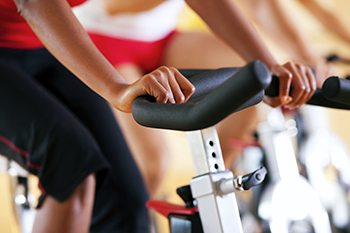 At the start of Sunday's spin class, my path seems easy, almost effortless. There are a few changes in resistance and a challenge to up my RPMs, but for the most part I feel strong. Confident as my legs cut the air with quick even circles, I forget why I was hesitant to hop up on the pedals.
It isn't long before I remember. Twenty minutes into the class, Qadriyyah (the instructor, who goes by "Q") begins asking for more than I want to give. She doesn't demand, but firmly asks that I increase my resistance, making my legs work harder, pushing me past comfortable.
"In one minute I'm going to ask you to up your speed," Q says. "It doesn't have to be a lot, but I want you to try, just 3-5 RPMs."
I don't mind sweating in spin. It's a sort of achievement—a sign I'm really working. Real work, though, is anything but pleasant.
"You've gotta trust me," the instructor says, her voice perfectly calm as she asks me to up the resistance again. The pedals stick under my feet, like there's gum in my gears. I start to wonder if I'll make it up the hill and finish the seated climb that we've only been in for 60 seconds. "I've got you," she assures me. "You can do this."
Most of my spin instructors call out cues from the bike in the front of the room. Most of them ride with the class, showing us that all they ask is really possible. Usually Q is one of those instructors, but today she is out on the floor and teaching on her feet. She is gentle but firm, pushing me as far as my body can go.
Forty minutes in, my towel is damp and my quads burn. I flash to memories of chair squats in high school gym and reach to turn the resistance down.
"Now I need you to give me everything you've got," says Q, just as my fingers touch the magic red knob. "All that resistance we put on earlier, we didn't just do that to do it. You were building up for this. For now."
I retract my arm and place my hand back on the handlebars, my legs cutting circles that are slow and labored. I trust Q. I believe her when she says I can do this, that I can do anything. After all, what is 20 seconds, 30 seconds, a single minute in the grand scheme of my life?
As I force my feet against the pedals, I think 30 seconds is actually an awfully long time when you're in pain.
And yet, when it is over, it is all but forgotten.
At Q's order, I take off the resistance and glide through a cool down, my legs spinning freely on the flywheel. I grab my water and watch her as she weaves through the rows of bikes, bathing us in praise. I know I couldn't do this without her. I couldn't push myself this hard or make myself this strong.
Life is not so different. The hard spaces and struggles—the failed relationships and lost jobs, broken promises and aching loneliness—are the things that make us work, pushing us past limits we don't want to reach. They are painful and difficult while we are working through them, but seem small and short in retrospect. I know I could not face them without someone coaching me along, telling me I can do this, that I can do anything.
God's voice, like Q's, is gentle and controlled. God asks me to push a little harder as I press through each struggle. All that resistance he gives me, it isn't for nothing. It's for the strengthening of my spirit and the shaping of my heart. It is painful, but it is possible.
"You've gotta trust me," God says, as my life begins to feel sticky, as I start to wonder if I'll make it to the end of the trial. "I've got you," God tells me. "We can do this."
Amanda Kuehn (A.K. Carroll) is a Bay Area journalist and freelance writer who contributes regularly to SF Weekly, Berkeleyside, the Lamorinda Weekly and San Francisco magazine. She earned a master's degree in creative nonfiction writing at Saint Mary's College of California.