I Can Do This
First-generation students thrive at Northwestern
BY AMY SCHEER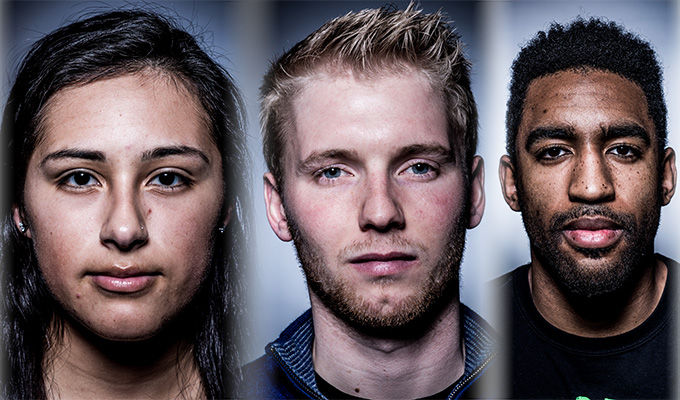 Doug Burg
Monserrat Figueroa '17 was born in Mexico. Her parents had met and married there, and when she was nine months old, her father took a job in the border town of Eagle Pass, Texas, where metal detectors greet children at school and drug cartels offer four figures to kids who will smuggle cocaine.
When her father learned of work on an Iowa hog farm, he moved the family to Rock Valley. Figueroa was five. Her mother found a job on a poultry farm. Figueroa came along one day, and as her mother checked on the hens and put eggs on a conveyor belt, the young woman made a decision about her future.
"You feel like you're choking on feathers. You can't breathe. I don't know how someone could spend a half hour in there," says Figueroa, now a sport management and translation/interpretation major at NWC. "I want to make a better future for myself and for my future kids. What motivates me is that I'm Hispanic, and the odds are against me. I will show people: I can do this."
Her mother quit the farm, and Figueroa went to college.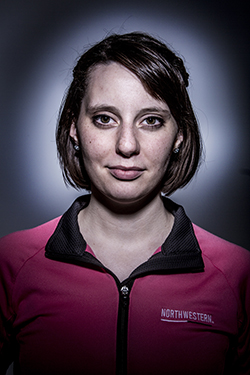 Barry Gutierrez
"First-generation college students" can share that label in common and little more. Defined as the first in their immediate family to attend a four-year college, first-gen students might be responsible for handling their own financial aid forms, as Figueroa did, because their parents don't speak English. They might breeze through high school, as Sarah Morren '16 did, only to find college a struggle and depression a constant cloud.
Like Isaiah Taylor '17, a first-gen might recognize the privilege and responsibility that comes with his status, and embrace the compromises that need to be made—such as not being able to afford regular visits back to California, two long time zones away.
"I can't talk to my family about feeling overwhelmed by a college schedule because they've never been through it," Taylor says. "I know it means a lot to them for me to come out here and finish school. I don't want to let them down."
Rahn Franklin, academic support and diversity specialist at Northwestern, sees that perspective as key to a first-gen's success, though the road ahead is not guaranteed to be smooth.
"If those coming in recognize what it means to be a first-generation student, there's motivation to perform at a higher level," he says. "When this is not present, it's a different story. You haven't seen what's possible; you don't reach for what's beyond."
Reach for the stars so if you fall, you land on a cloud. Franklin likes to point students to this lyric from rapper Kanye West, while recognizing that a first-generation student may need someone to tilt his chin upward. The first-gen student may be hunched over in survival mode, because no one she knows has gone before to lead the way.
"You are not here just to be in college," Franklin tells them. "You are here to reach your full potential, and it's not necessarily scripted by your background."
An infrastructure is in place at Northwestern to make that happen. Incoming freshmen are required to take the First-Year Seminar (FYS), a course designed to begin a discussion around three questions: Who am I? Who are my neighbors? How will we live in the world?
While not aimed solely at first-gen students, FYS helps identify anyone who might be struggling, and first-gens can often find the transition to college disorienting. Critical thinking skills may be underdeveloped, and access to resources misunderstood. Some students were labeled "the smart one" back home, only to find that in a larger educational setting, they're no longer head of the class.
"The hardest challenge is that of identity," says Dr. Tom Truesdell '01, director of academic support and the first in his family to earn a four-year degree. "Students may think, 'I'm not the same person I was. I don't fit in here; I don't fit in back home.' It's a time of transition and making your own way."
Morren, an education major, had never considered academics. Her brother tried a state university for a year, decided it wasn't for him, and eventually attended motorcycle technician school. Her mother had felt some pressure from her parents to attend college after high school and was offered a deal: Find well-paying work before class registration closes, or you're going to college. The week before the deadline, she landed a job in insurance.
Morren's own list of early goals precluded the need for college—ballerina, flight attendant, hairdresser—but because she did well in high school, further education was encouraged.
Morren had always admired her teachers and her mom, who worked at her preschool, so she pursued that field. Once the struggle with depression started, her mother told her, "I believe in you. You are going to be an amazing teacher."
Before she graduates in May, Morren is participating in Northwestern's Denver Urban Semester, where she teaches in a school system that provides unique opportunities in science and technology to students from impoverished backgrounds.
"There were times when I wanted to quit college. It was really hard," she says. "I can see it pushed me to be a better teacher. If I hadn't struggled to learn, I don't think I would be able to connect as well with my students who don't get it."
Klint Knutson '17 grew up milking cows and operating machinery on his uncle's dairy farm in Magnolia, Minn., and now plans to become a surgeon.
His mother, a single parent and cosmetologist, raised Knutson and his siblings to understand that hard work leads to opportunities. His sister will also attend medical school. An older brother is a rocket scientist in Los Angeles, and another brother is a nuclear engineer for the Navy.
"That's in my blood; I'm going to do my best," Knutson says. "Money was something my mom worked hard for. She taught us to work as best as we can and never sell ourselves short."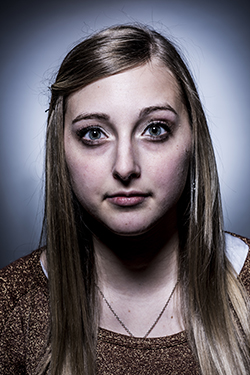 Doug Burg
Taylor's mom borrowed from the same playbook as Knutson's. A skilled high school athlete with a busy sports schedule, Taylor had to make time for the advanced placement classes his mom insisted on. When Taylor was in the seventh grade, she registered him for a research-based program that prepped students for success in higher education. Both of his parents had attended junior college but regretted never finishing.
Taylor, who is African-American, is now a sport management major with a journalism minor; he writes for the student newspaper and is proud to wear his Red Raider basketball jersey. Transitioning from the California sun to the Iowa cold was a struggle, and coming from diverse classrooms to being one of the few people of color in campus settings, a surprise. But he was taught to love his neighbor as himself, he says, and this Christian foundation directs him at every turn.
"God's intent for his creation is to reach its full potential," says Franklin, who is also African-American and was a first-generation student himself. "Spirituality is at the core of what we do. It's the idea that what you're doing is more than earning a degree: It's a higher calling."
Franklin runs a program called Futures, which folds first-generation and low-income students as well as students of color into welcoming support structures. A host family coordinator connects students with local families for meals and visits, and clubs such as La Mosaic honor the music, dance and foods of other cultures through events and trips.
In the fall, Franklin takes Futures students on a retreat for team building and encouragement from upperclassmen who have walked in their shoes.
"In the end, we hope that all students—including those faced with more challenges—will not only survive but thrive at Northwestern," Franklin says.
Like Morren, Deidra (Vande Woude) Taylor '16, who is married to Isaiah, considered cosmetology school. A social creature, she was eager to settle down, have kids and enjoy her friends, and four years of college didn't fit into this plan. Her older sisters, who had attended Northwestern, sat her down and reminded her she was a natural-born teacher. Her dad expressed regrets that he hadn't furthered his own education; he loves his job but wished he could have done something more.
This May, Deidra Taylor will graduate with a degree in elementary education. Her dream is to run an in-home daycare, just like her mom did without ever having pursued a degree. Unlike her mom, she'll also have the option of following her kids to school, teaching in a classroom at some point if her career goals change.
"These four years have been irreplaceable," she says. "I have grown in so many ways beyond just academic. If I had gone to a state school, I don't think I would have grown as much spiritually, and my outlook on the world would be different. I've learned so much about myself.
"The degree is great, but it's not the only thing I got out of my college education."