Having a Ball
BY DUANE BEESON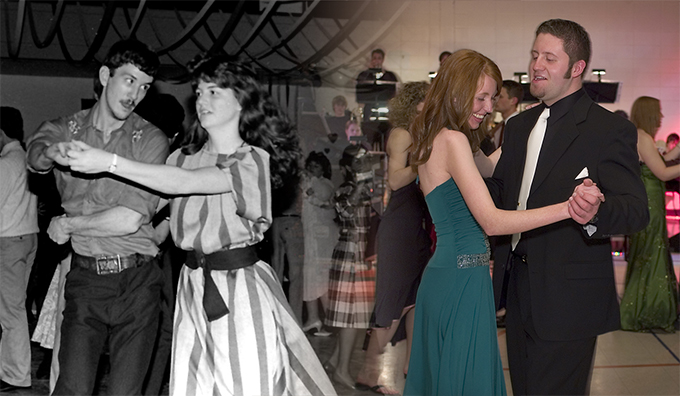 NORTHWESTERN ARCHIVES and TOM BECKER
In 1986, music professor Ron Toering was looking to challenge his Jazz Band to learn to play big band music. But he wanted them to have a purpose for it, so he asked local ballroom dance instructor Dick Miske to teach students how to dance to the ensemble's tunes.
The result was the start of Northwestern's ballroom dance, a traditional semi-formal event that continued until 2008. For each of those years, Miske taught students and any interested community members how to waltz, foxtrot, swing and polka in preparation for the big day.
"I gave them a structure so even the non-dancers could learn and look good while on the floor," remembers Miske. "I enjoyed seeing the students' enthusiasm as they realized they could do partner dancing and pick up the rhythm of the music."
Since the event was held around Valentine's Day, students often pulled out all of the romantic stops—with a fancy meal, flowers and their best threads—before dancing until midnight alongside couples like presidents Jim and Martie Bultman and Bruce and Di Murphy. As many as 400 people attended the event, which was originally held in the former chapel and then moved to the Rowenhorst Student Center Mini-Gym.
The music was usually provided by Northwestern's Jazz Band, playing standards such as Georgia on My Mind, In the Mood and Little Brown Jug. Occasionally a professional ensemble, such as the Reggie Schive Jazz Orchestra, was hired.
Natalie (Trowbridge '89) Haverdink was on the leadership team for Winter Carnival, which included the dance, for a couple of years. She says the novelty of the ballroom dance, being so different from dances students had attended in high school, helped the event become a popular tradition.
"I had never been to a dance with that kind of music, so it was fun to do something different," says Haverdink, whose future husband, Mike '89, played in the Jazz Band. "I really enjoyed it because I took dance lessons growing up and learned some swing style. It was fun to do that again and teach some of my friends."
The ballroom dance was replaced on the Student Activities Council schedule in 2009 by another event that featured waltzes and polkas, "Dancing With the Profs." Today that style of dancing is one of many presented during the annual RUSH student dance concert.