Staying in the Game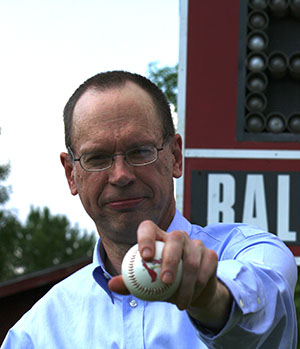 SCOTT MATHIASEN
The irony of being a sports lover with a noticeable limp and limited use of his right side is not lost on Paul Delger '79. Born with cerebral palsy, Delger has had his share of physical and vocational setbacks, and now he is drawing on his experiences to share his fighting spirit with others.
Delger approaches life with a creative mind, strong faith and sense of humor, which is how he persevered through years of vocational monotony, including a long stint of pumping gas at his dad's station. On an Athletes in Action trip to Africa in 2010, his third trip with the organization, God began revealing a new action plan to Delger. He needed to share his story—of being bullied, disregarded and disappointed. But more than that, it is a story of staying in the game.
Currently self-employed as a writer and speaker, Delger has found both healing and empowerment. Speaking primarily to high school and college audiences, he motivates them to attack challenges with their God-given fighting spirit.
"You can't be someone else," he says. "I encourage [young people] to celebrate and do the best they can with what God has given them. I could never play basketball like Michael Jordan or LeBron James, but those guys could never be Paul Delger either."
BY BETH (NIKKEL '02) GAULKE
---
Grand Slam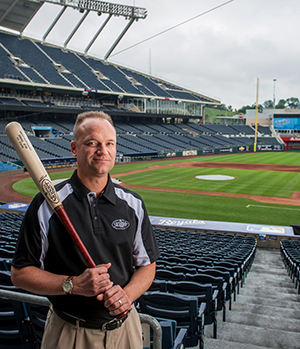 DAN VIDETICH
The son of a baseball coach (and later college president), Matt Bultman '90 played the sport as a Northwestern freshman but hit his stride on the golf course, where he lettered four years.
A business administration major, Bultman wanted to work for a golf company. After graduation he entered the sales training program of Hillerich & Bradsby, the parent company of PowerBilt Golf. But by the time he was ready to begin making sales calls, a Kansas City-based territory for the firm's iconic Louisville Slugger line of baseball and softball products seemed like a better fit.
After selling in a four-state area for many years, Bultman now handles national strategic accounts, mainly Internet and catalog companies. He's seen numerous technological changes in Louisville Slugger's product line in his time with the company, including the growth of composite and hybrid bats.
What are the marks of a good bat? "You want a big sweet spot, nice balance throughout the bat, a good sound coming off the ball and a good feel when hitting it," says Bultman.
He says it's fun to sell equipment for sports he loves. And the former pitcher and outfielder finds his competitive spirit hasn't waned. "I love the challenge of trying to get more shelf space and sales for Louisville Slugger. I like to compete and win."
BY DUANE BEESON
---
Road Work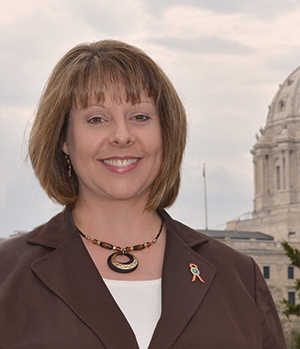 RICH KEMP
Minnesotans are tough. They get bug bites in the summer and frostbite in the winter. This past winter, North Star Staters weathered more than 35 ice and snowstorms. In addition to costing the state's taxpayers $135 million in snow removal, the chilly winter generated millions of potholes and loads of mail for the Minnesota Department of Transportation—some of it warmly appreciative, some of it heated.
Angry letters are part of the job for Tracy (Carter '95) Hatch, deputy commissioner of MnDOT. "You should see how riled up people get about potholes," she says.
With steely resolve and a sunny disposition, Hatch steers a department of 5,000 employees and $11 billion in state-owned assets—like roads and bridges—that are in constant need of upkeep. Responsible for stretching Minnesota's $3 billion annual budget to pay for infrastructure maintenance, improvement and expansion, Hatch is driven by a passion for government effectiveness and accountability.
In addition to deputy commissioner, Hatch is also MnDOT's chief operating and financial officer—roles that lead her from Governor Mark Dayton's office to Minnesota house and senate committee hearings.
Each week she also finds time to hit the road, traveling to sites across the state to better understand the mile-by-mile work of MnDOT's road crews and assure them the work they're doing paves the way for safe, mobile and happy citizen-stakeholders—no matter what the mail says.
BY TAMARA FYNAARDT
---
On Display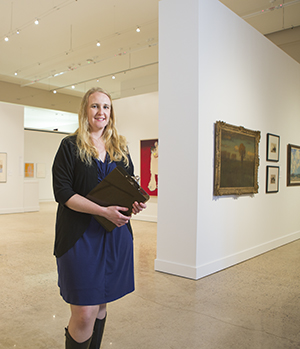 PHIL SHOCKLEY
When Oklahoma State University opened the doors to its new—and first ever—art museum, Carla Shelton '07 was among those celebrating and enjoying credit for the achievement. The history and sociology major with a master's degree in museum science was hired by OSU in 2012 as the museum's registrar and collections manager. She helped design the storage layout in the building's archive, entered collection items in a database, created condition reports on each piece of artwork, and supervised the collection's move to its new home.
"I've always worked in collections, so I've always seen the 'back of the house' of museums," she says of her preparation for her latest job. "My master's degree equipped me for anything. Once you know registration, you can do it at any museum—and while it's been a little bit of a learning curve with the art, you care for objects the same."
Shelton does that care in her "2,000-square-foot office," the museum's climate-controlled collection vault. And because Oklahoma State's Postal Plaza Gallery is a teaching museum, the vault has glass doors and windows that give visitors the rare opportunity to see the behind-the-scenes work of a museum—and Shelton and her student assistants in action.
BY ANITA CIRULIS