Pushing Back Against Bullying
BY EMILY (MEYERINK '08) GRIESE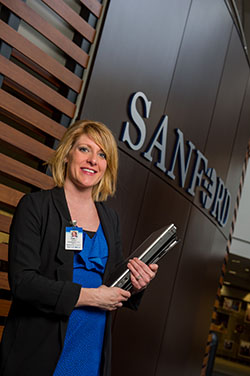 GREG LATZA
"I get called fish-face … I feel kinda nervous going to school. I like learning, but I have trouble making friends."
These comments by a young boy in Sioux City, Iowa, were featured in the recent documentary Bully and capture the trepidation so many youth today feel. While school is supposed to be a safe place—a place where students go to learn, make friends and explore who they are—it has, for so many of them, become a place of fear. With nearly 20 percent of youth reporting repeated maltreatment by their peers in the form of bullying, it is clear we should no longer ignore this issue.
To combat bullying, it is important that we first accurately identify what bullying is and its impact. Bullying is unwanted, aggressive behavior directed toward an individual that is 1) repeated or has the potential to be repeated and 2) involves some sort of power imbalance, such as differences in physical strength or popularity. Children who are bullied report feeling emotionally distressed or anxious. They withdraw from their peers or family, act out behaviorally, or avoid school. In more extreme cases, being a perpetual victim can lead to significant depression and even thoughts of suicide.
As parents or teachers, we often feel lost in this battle, wondering where to turn and how best to help our kids. The reassuring news is that there are resources. As a researcher who studies bullying, one of the most rewarding aspects of my work is providing teachers and parents—who often feel helpless—with supportive information on bullying and the skills needed to stand up to it. Below are key areas researchers have identified as important in the fight against bullying.
Enacting peers or bystanders: More than half of all bullying situations (57 percent) stop when a peer intervenes on behalf of the victim. One of our most important tools is to teach students to identify bullying behavior and equip them with the skills to effectively intervene for each other. Supportive actions from peers can include directly stepping into the situation, seeking help from outsiders, and/or comforting the victim. As teachers and parents, encouraging kids to step up when they see someone being bullied and then praising them when they do so is invaluable. Bystanders who are confident they can make a difference are more likely to act when bullying occurs.
Empowering victims themselves: One of the most important factors in the duration and impact of bullying is how the victim copes, or responds, when bullied. While fighting back may be natural for some children and even encouraged by their parents, retaliation is likely to make the bullying situation worse. Instead, victims should be encouraged to walk away and report the bullying situation to a teacher or trusted adult.
Youth who are bullied can also limit their potential for future bullying. Victims who are encouraged to develop appropriate problem-solving skills and seek avenues for social support can be empowered to stop bullying before it starts. Children who are able to increase pro-social behaviors like helping, sharing or volunteering are also more likely to be seen positively by their peers and, in turn, decrease their chances of being bullied.
Engaging teachers and parents: Finally, teachers and parents serve an important role in supporting both victims and bystanders by providing them with the necessary skills and knowledge to take a stand against bullying. Victims of bullying report that the most helpful things teachers can do are listen to them, check in with them, and provide them with advice and skills to deal with the bullying if and when it occurs.
Bullied kids and their parents aren't helpless or alone. Together we can empower our youth by providing them with the knowledge and skills to decrease bullying and ensure our schools are safe and welcoming places.
Dr. Emily Griese earned master's and doctoral degrees in educational psychology from the University of Nebraska. She is now a postdoctoral research fellow at Sanford Research in Sioux Falls, S.D., conducting research aimed at bullying prevention.