Ministry in the National Parks
BY ANITA CIRULIS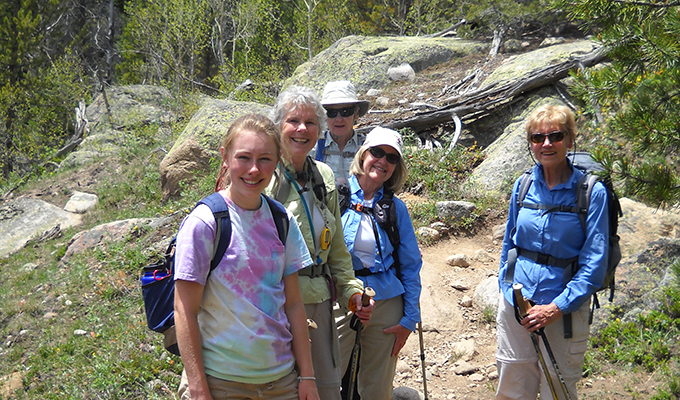 The next time you're in a national park on a summer vacation, take a closer look at the young person working in the gift shop, serving your food or leading worship at your campground. He or she could be a Northwestern student.
Sixty-three years ago, a Princeton Seminary student employed in Yellowstone for the summer felt called to provide for the spiritual needs of park visitors, residents and co-workers. The interdenominational worship service he led in the Old Faithful Inn was the start of A Christian Ministry in the National Parks (ACMNP), an organization that places Christians on ministry teams in 28 of America's most scenic settings. Volunteers—generally 18 to 30 years old—get seasonal jobs with private park hospitality companies. Then, throughout the summer, they interact with their co-workers and park guests and lead worship services in park campgrounds and amphitheaters.
Last year ACMNP had nearly 200 students in America's national parks. Eight were from NWC. This summer four Northwestern students are serving with ACMNP in Wyoming's Grand Teton National Park.
Emily Kubbe worked at the YMCA of the Rockies in Estes Park last summer, helping people make jewelry in its craft and design center. "I told my college adviser that I loved the outdoors and that I also loved to do ministry, and she told me about ACMNP," the junior from Ottumwa, Iowa, says.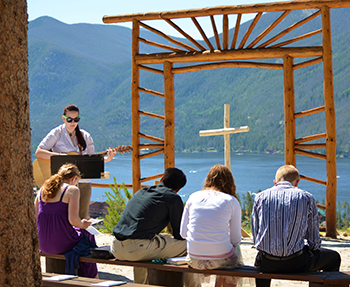 Every Sunday, Kubbe and the other six members of her team would divide up to lead services at the Aspenglen and Moraine Park campgrounds—two services in the morning and one in the evening for anywhere from four to 45 campers. "It was a really intimate setting," Kubbe says. "It was kind of a breath of fresh air to be able to worship in that way with a really small group of people."
ACMNP provides its volunteers with materials to help them plan the services, as well as training prior to the start of the summer. "Our Sunday morning responsibilities were a huge part of it, but we also did relational ministry throughout the week with our co-workers and the people we were living with in the dorms," Kubbe says. "For me a lot of it was just spending time with my co-workers. We had really good conversations in our downtime and were able to discuss some really deep things."
Like Kubbe, Taylor Bodin '14 was at the YMCA of the Rockies last summer. The elementary education major served as a camp counselor—an experience that confirmed his calling to work with children. "I know how much I've seen God in creation, and just being able to be in the outdoors with kids and to share that passion was why I was interested in working at a national park," he says.
Bodin would join Kubbe and other ACMNP teammates in "campground walking" every weekend, striking up conversations with campers and inviting them to the Sunday services. Many of their co-workers would come to the services—some because they were Christians and others out of curiosity.
"We would end by getting in a circle and praying, and then we would sing the doxology," he recalls. "I really liked doing that at Sunday Night Praise & Worship at Northwestern, and we were able to incorporate that into our services, which was pretty special."
Another student whose summer in the national parks reinforced his calling was Jordan Vermeer '13, a business and religion major who worked in retail at the Jackson Lake Lodge in Grand Teton National Park. The future pastor got good practice speaking at the services.
"For my first sermon, I basically used my senior thesis paper for my religion major and turned it into a sermon," he says. "I ended up writing five or six sermons. I would take some Scripture and then preach about theology and how God relates with us. I had a lot to draw on from what I learned at Northwestern."
Throughout the summer, ACMNP team members have plenty of opportunities to explore the national park in which they are placed. With a different schedule than the rest of her teammates, Kubbe spent her day off on Mondays hiking with a local woman and her friends—70-year-olds who Kubbe says "could pound out a 10-mile hike, no problem."
Vermeer, a novice at backpacking, found himself freezing in a borrowed sleeping bag the first night he went camping. By the end of the summer he owned his own equipment and had hiked into the back country, slept on a glacier and climbed both the Middle and South Teton.
"It was definitely the most incredible summer I've ever had," he says. "I got a super tight group of friends out of it, but mostly it gave me a yearning for the outdoors and open spaces."
Perhaps, then, it's not surprising that when Vermeer starts work on his Master of Divinity degree this fall, he will be at Denver Seminary in Colorado, at the foot of the Rocky Mountains.