Inside the Ropes
Former schoolteacher caddies for rising PGA star Jordan Spieth
BY DUANE BEESON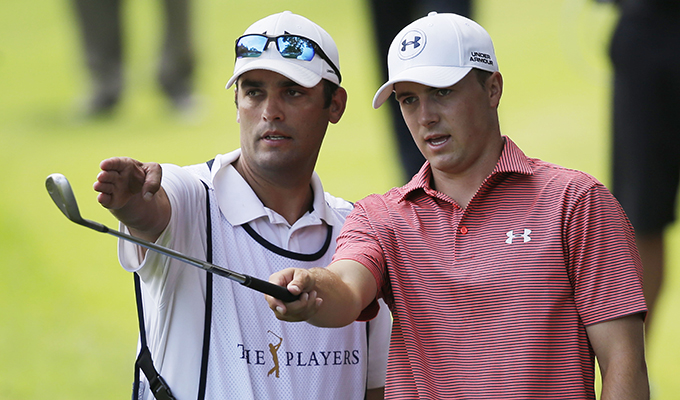 AP/GERALD HERBERT
Watching the final round of the 2012 Masters on TV, teacher and part-time caddie Michael Greller '00 was asked a question he hadn't yet dared voice.
"Will you always wonder what could have been," asked his then-fiancée, Ellie, "if you don't try caddying full time?"
His answer? "Absolutely."
Not long afterward, Greller had offers to carry the bag for both Jordan Spieth and Justin Thomas at the U.S. Open. He chose Spieth, who finished as the low amateur, tied for 21st overall. By December the 19-year-old Spieth had left the University of Texas to go pro, and Greller had taken a year's leave of absence from Narrows View Intermediate School near Tacoma, Wash., to serve as his full-time caddie.
Greller's new job came with few guarantees. Spieth was the 2009 Rolex Junior Player of the Year and the only other golfer besides Tiger Woods to win the U.S. Junior Amateur more than once. But he failed to make it through the PGA's qualifying school, which meant he didn't have an exempt spot on the PGA Tour or its developmental Web.com Tour.
"Since I had no idea where my schedule was going to take me week to week, we decided it was best to have a [caddie] who knew my game, how I go through my shot process and was a good friend off the course," said Spieth at a press conference.
Spieth's friendship with Greller could be indirectly traced back to 2006, when Greller was watching the U.S. Amateur Public Links at his home course, Gold Mountain Golf Club. "I noticed Matt Savage was carrying his own bag," Greller told the Sioux City Journal. "I thought about how cool it would be to caddie, to hear what they thought, to be inside the ropes. So I went up to him and offered to work free."
Savage, a Florida State University golfer, had shot a 75 but improved to 69 the next day with Greller's assistance and advanced to the quarterfinals. After that auspicious beginning, Greller became a regular summer caddie. In 2010 he called Savage and asked if he knew anyone needing a looper for that year's U.S. Amateur at nearby Chambers Bay on Puget Sound. Savage connected him with Justin Thomas, with whom Greller worked at three U.S. Amateurs.
When the Junior Amateur came to Gold Mountain the next year, Thomas linked Greller with Spieth, who went on to win the title.
Teacher, Brother
It's been said that a good caddie is a psychologist, meteorologist, agronomist and mathematician. Sure, he carries the 55-pound bag, but he also cleans the clubs, studies the course to see how balls are reacting to the greens and to weather conditions, and advises on club selection.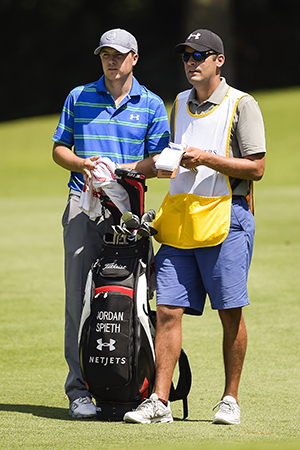 CHRIS CONDON
The most important part of the job for Greller is the psychological aspect. "I have a really good relationship with Jordan's swing coach, and I know what he's working on. I can find ways to validate what he's been saying. The No. 1 thing at this level is self-belief."
While Pebble Beach may seem to be light years away from his sixth-grade classroom in Washington, Greller says there are a lot of similarities between teaching and caddying. "Being able to think on your feet, being an encourager, having a servant's heart, being able to adapt, having thick skin—all of those things directly apply to working with Jordan."
A grin crosses his face as Greller adds: "Instead of 30 children in my classroom every year, it's like I have one big kid. Teaching for 10 years prepared me for Jordan."
Growing up with three siblings in the family of former Vice President for Advancement John Greller, the caddie knows a lot about trash talking. While he has a teacher role at times, Michael is also like a big brother to the Dallas native.
"We give each other a hard time," he says. "Jordan teases me about my bald spot and 'Greller belly.' I say, 'When you're 37, come talk to me.'"
They often banter about Greller's favorite team, the University of Michigan, and Spieth's alma mater, the University of Texas, making small bets as distractions during a tournament. And when Greller shanked a shot that came back and hit himself in the head during an off-day round, Spieth tweeted the video to his 134,000 followers. "He's very entertained by my lack of golf ability these days," says Greller.
Together for 30 weeks of the year, the two try not to talk about golf after the long days on the course. Instead, they compete at everything from trout fishing and pool to pingpong (Spieth's the champ) and cards (more Greller's game).
Strong Start
In their first year together as pros, Spieth finished second in the Puerto Rico Open, won the John Deere Classic in western Illinois, and helped the star-studded U.S. team win the Presidents Cup. He finished as the PGA's 2013 Rookie of the Year, ranked 20th in the world with $3.8 million in winnings.
"He's a really gritty hard worker," says Greller in explaining his boss's success. "He's consistent in every area of the game. He visualizes things like nobody I've ever met. And yet he's very grounded."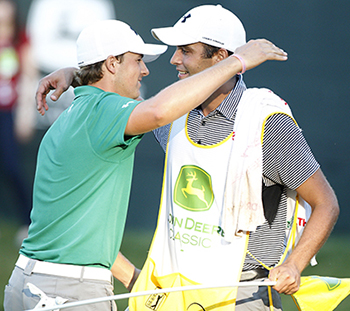 MICHAEL COHEN
A few weeks after winning the John Deere, Spieth skipped a tournament so he could join his caddie and Justin Thomas in a group of foursomes at Chambers Bay, followed by Greller's wedding on the course. Later that summer the Northwestern alum decided to make his leave of absence from teaching permanent.
"He's perfect for me," Spieth said in an article in DFW Links. "Especially early in the season [last year], I was trying to earn as much money as I could and I was pressing a lot. I was up and down, not emotionally neutral. Greller is great at settling me down. He understands the strengths of my game and where I get in trouble."
Greller—a two-time all-conference golfer at Northwestern whose 79.74 career average is 28th best in school history—has approached his new job like a student happy to back in class following summer break. At tournaments he's often on the course as early as 5:30 a.m., studying the links with his range finder. He peppers veteran caddies with questions and finds inspiration from the tour's weekly Christian fellowship meetings.
"He's learned quickly," Paul Tesori, the caddie for Webb Simpson, told Golf Channel last year. "He and Jordan both seem mature. The little things that take years to learn, they already have a firm grasp on."
Heading into this year's Masters, Greller spent a lot of time with Carl Jackson, Ben Crenshaw's longtime caddie at Augusta National. "I took the yardage book out and went over it with him hole-by-hole. I jotted down notes and reminded Jordan of things during the week," Greller told the Sioux City Journal.
"I had never been as confident when we teed up. Jordan really fine-tuned his game to peak that week, and he was as strong mentally as I've seen him."
Spieth nearly became the youngest golfer ever to win the green jacket. He led until the last couple of holes on the front nine, finishing tied for second, three shots behind Bubba Watson.
"I told him it was one of the best weeks of my life," Greller said to ESPN about his post-tournament conversation with Spieth. "We told each other how proud we were, and [said] we're going to have a lot more of these."
You can bet on that.