Flexible Learning
Online programs bring a Northwestern education to students around the world
BY AMY SCHEER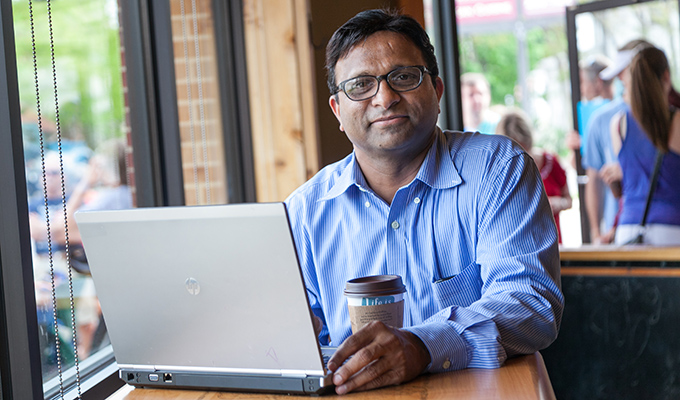 MICHAEL HUDSON
When Nicole Ondrashek's mentor encouraged her to pursue an endorsement to complement her early education degree, she knew there was no way she could attend a class.
A mother of four, Ondrashek called the Iowa Board of Education to determine the options available for her packed schedule. There's one college offering the endorsement in our state, they told her, and it's "tough," with high academic rankings, but you can work exclusively online.
"I wouldn't have been able to get this job without the endorsement," Ondrashek says about her full-time teaching position in Ossian, Iowa. "I learned a great base of knowledge, and now I have the endorsement to teach what I really enjoy."
Today Northwestern is still the only college in Iowa to offer an online path to Endorsement 100, which qualifies teachers to work in classrooms integrating children with special needs. The program began in 2009 after Dr. Lila (Elliott '81) Sybesma, associate professor of education, identified a need for established teachers to acquire the endorsement without having to leave their jobs and return to college. Endorsement 100 launched Northwestern's online learning offerings, which now include programs in analytics, coaching, early childhood education and nursing.
Students work from home and conveniently complete clinicals or student-teaching at their place of employment—experiencing Northwestern from as far away as Colorado, California and London. Dr. Rebecca Hoey, the college's director of online learning, says the programs reach a market of adults who otherwise couldn't take part in the college's community.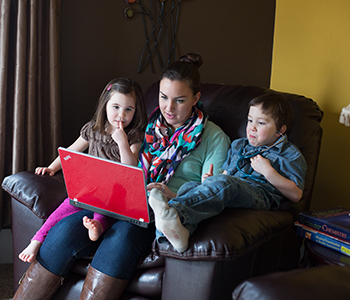 JENNI (SYBESMA '09) OCHSNER
Crystal (Sechler) Kiel enjoyed the best of both worlds. A 2007 graduate of Northwestern, Kiel put her business education to work for a couple of years before deciding to earn an RN degree.
Working in an Orange City clinic until a layoff forced her to apply elsewhere, Kiel soon realized she was in direct competition with recent college graduates holding a Bachelor of Science in Nursing degree. She enrolled in Northwestern's online RN-to-BSN program, which enables students to complete the degree in two years or less.
"I had a hard time getting an interview before, but ever since starting the program, I'm more marketable," she says.
Though Kiel, who is mom to Emmett (5) and Amelia (3), appreciated the flexibility of studying at home on her own time, she chose Northwestern's online program for its literal proximity and its mission. While Ondrashek already had a classroom in which to complete her student teaching, Kiel wanted access to clinical experiences in a familiar, close environment alongside people who shared her beliefs.
"There are places you could go to get an online degree and learn facts about the body," Kiel says, "whereas at Northwestern, they also want you to think about faith, how God created us, and how amazing our bodies are."
Nandan Lexman's needs were more straightforward. An independent software consultant commuting regularly between Illinois and Texas, Lexman was ready to transition into the area of data science, a discipline that requires knowledge of statistics, databases, programming and machine learning. Closely following industry trends, he recognized the value of an analytics education and enrolled at Northwestern to earn a certificate in the field online.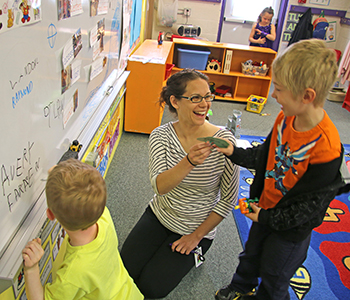 BOB MODERSOHN
"Software can typically be self-taught," he says, "but for data science, I needed more of a structured course online that covers various disciplines. Professor [Russ] Albright made us think. He is a great guy with a lot of knowledge."
Certified teachers with sports skills and knowledge can benefit from Northwestern's online programs as well. A coaching endorsement was among the first online offerings, enrolling mostly traditional students; a coaching authorization was later added, qualifying adults who are not licensed teachers to coach at the middle and high school level. In May, 55 students began the eight-week authorization program online.
Pending Higher Learning Commission (HLC) accreditation that will enable Northwestern to offer graduate-level programs, next summer will see the addition of a graduate certificate in the management of international development. "Major nonprofits like Compassion International have people in missions working all over the world," says Hoey. "This certificate will prepare them so they are better able to help entrepreneurs in developing countries start and sustain small businesses."
Northwestern also plans to begin offering online master's degrees in education, pending HLC approval.
"As an institution, we're really thinking about how we can meet the needs of adult students. How can we help them grow and do God's work in the world?" asks Hoey—because the courageous and faithful learning Northwestern offers is for students of all ages and locations.