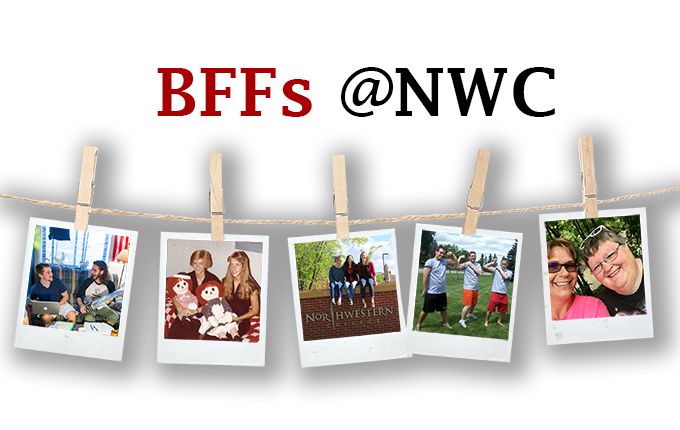 EDITED BY AMY PHILLIPS
PHOTOS SUBMITTED
Whether a random lottery paired them as roommates or an embarrassing moment sealed the deal, these alumni have their Northwestern years to thank for finding best friends for life.
THE REST IS HISTORY




I met Christy Sweet '01 at a get-together for history majors the first week of school. She was in my very first Northwestern class. When she answered all of Dr. Anderson's questions, I knew I wanted to be friends with her. We talk at least every other week and spend vacations together.

AMBER (DAVIS '01) BACKES
San Jose, Calif.





---
PROPS TO HER




Fall of 2016: The children's show for the theatre department was The Lion, The Witch and the Wardrobe. I stage managed, and Tetta Askeland '18 was the props master. We had an interesting number of props break or malfunction, so Tetta and I become fast friends. Many times I burst into the scenic studio shouting "TETTA!" in order to communicate what needed to be done. We worked on almost every show together, took pretty much every theatre class together, and absolutely loved our time in the theatre department.

REBECCA OCHOA '19
Kansas City, Mo.
---
ROOMMATE REDUX
I was randomly paired with Rebecca Rens '14 as roommates freshman year. Four years after graduation, she moved to Des Moines and we became roommates again!
JULIA LANTZ '14
West Des Moines, Iowa









---
STAND BY ME
Three guys who will stand with me at my wedding are my freshman roommate and our next-door neighbors. Even though we are now spread across four states and two time zones, we continue to be intentional with our communication and time. Three of us work in higher education as resident directors, and I've enjoyed the times when we talk shop about our vocation, but also the times we talk about family and sports, or retell prank stories for the 200th time.
MICHAEL SIMMELINK '14
Orange City
---
ON SOLID GROUND
Beth (Nikkel '02) Gaulke and I were both serving as RAs in North Hall our junior year and had returned early for training, which included a high ropes course. With neither of us being the adventurous type, we found ourselves bonding as we waited on the platform before being given permission to return to solid ground. From that point on, we were fairly inseparable and even lived together our senior year. Our lives have taken very different paths, but Beth and I have stayed close with regular visits—including annual Christmas get-togethers—and have seen each other through both the most joyous and hardest of seasons. I cannot imagine the past nearly 20 years without Beth only a text message, phone call or plane ride away.
LISA MURPHY '02
Waco, Texas


---
LONG-DISTANCE FRIENDSHIP




My freshman roommate, Jackie (Rienstra '98) Vlieger, and I made many memories together, and I was extremely sad when she told me she didn't plan to attend NWC the next year. We continued to stay in touch by getting together, even though she didn't live in Iowa. Our first get-together involved a flight with another friend from NWC to visit Jackie in Boston, where she was working as a nanny. We usually plan a summer weekend getaway. We celebrated turning 40 in Pigeon Forge, Tenn., which was definitely a trip to remember.

JENNIFER LEICHTY '98
Ames, Iowa
---
MEANT TO BE
Erin (Holle '15) Finke and I were matched as roommates freshman year. Within a week, people were asking if we grew up together. We ended up rooming together all four years, were maid of honor in each other's weddings, and still have countless phone calls and at least one "roomie reunion" each year.
KELSEY (DOORNENBAL '15) VANDEN BRINK
Sioux Falls, S.D.
---
VALLEYS AND MOUNTAINS




I met Cindy Dagel '93 in April 1988 at orientation. We were roommates all through college and continued as best friends after our time at NWC. Cindy was maid of honor at my wedding, and I knew when she agreed to wear a dress that she'd do anything for me! We have been there for each other—in person and in prayer—through my two miscarriages and the death of my dad, the death of Cindy's parents and three of her siblings, surgeries and illnesses, moves, the births of my daughters, and job and family frustrations and joys. Last summer we celebrated 30 years of friendship with a "friendiversary" trip to the Smoky Mountains.

LORENA (HALL '93) BRANT
Estherville, Iowa
---
THE FOUR MUSKETEERS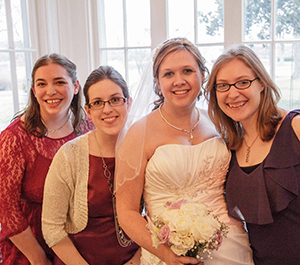 Hannah (Smithson '07) Taylor, Suzy (Husmann '07) Frodermann, Rachel (Yackey '07) Harcum and I became the "four musketeers." We ate meals and attended events on campus together, we were in each other's weddings, and we've been there for career changes, kids, moves and all that has happened in between. They are the first ones I text or call with a prayer request or when I'm seeking advice. And still, almost 15 years later, our hallmark is laughing until our sides ache when we get together! I've learned invaluable lessons from them about God, faith, community and the power of deep, invested relationships. We had a reunion during Homecoming last fall; it was the first time all of us were together in five years.
COURTNEY WICHTENDAHL '05
Sioux Falls, S.D.
---
POETRY SLAM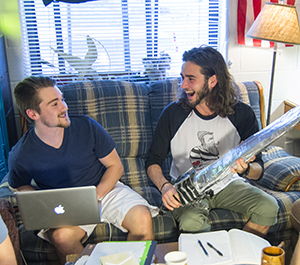 In West Hall one quiet spring night, a random crew of misfits decided to run and charge at random objects on Northwestern's campus. Among those shirtless young men was James Teutschmann '17. I knew he was best friend material when he shouted, "Look! Lights! Let's get 'em!" We ran like madmen to downtown Orange City and threw down some improvisational spoken word. The rhymes and rhythms of absurd poetry sealed us as best friends. We stay in touch by going skiing in Colorado together every year.
MILES FLETCHER '16
Golden, Colo.
---
FAMILY REUNION




I met some of my dearest friends during a freshman wing meeting on Steggy 1N. We introduced ourselves by sharing a food that began with our first initial, which is how I got to know Michelle (Roethel '11) Gross, Holly (Bowers '11) Gustafson, Anne (Backstrom '11) Krueger, Ansley (Griess '11) Lovgren, Megan Schreurs '11, Kathryn (Miller '11) Sloan and Hollyann (Elton '11) Tjelmeland. Over time, traditions developed, like going to the Dutch Bakery every Friday afternoon for 25-cent donuts, holding watch parties for The Office, and cramming into one car to drive to church. Before we knew it, we were a family, meeting at the round tables in the back of the caf' every Thursday night for "family dinner" and taking "family photos" around campus at the end of every school year. We get together for annual reunions, whether it's a wedding or a visit to someone's home or cabin. We're already planning a cruise to celebrate our 50th friendship anniversary.

"RASPBERRY" RACHEL (RAGER '11) KLETT
West Des Moines, Iowa
---
MATCHMAKER
Joan Eilderts Nulton '70 and I decided to room together our sophomore year. A classmate of hers from high school was transferring to Northwestern, and she wanted me to meet him at the new-student campfire that evening. After that first encounter, the school year progressed uneventfully until Dutch Treat Week. I decided to ask the guy I had met through Joan, Terry Muller '70, to Friday night's basketball game. Terry and I dated the rest of sophomore year, and during our junior year, we became engaged. On Dec. 27, 1969, we were married, and of course, my BFF was my personal attendant. Joan and I have continued to keep in touch over the years through letters, visits—and now texting.
LAURA (KREUN '70) MULLER
Penny Farms, Fla.
---
BROTHERS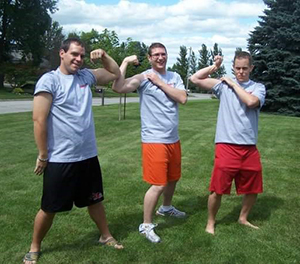 Whether it was trips to Goodwill, Blue Bunny or Perkins at midnight, with John Wiberg '03 there was always something to do and life to talk about on the way. Having his friendship over these years means a lot—we always seem to have each other's backs and are there for the 1 a.m. phone call or a spur-of-the-moment, seven-hour road trip. God places people in our lives for a reason, and it is a gift to know I have a fellow brother and BFF as part of my journey.
TONY HOFTIEZER '05
Saukville, Wis.
---
ODD COUPLE




I was a farm girl; she was a city girl. She was a business major; my major was elementary ed. She is a night owl, and I'm early-to-bed. Yet we quickly bonded and have remained very close friends. We "did life together" from day one at NWC and continue to share our joys, sorrows, frustrations, blessings and prayer requests—now via monthly phone calls. When I called Connie (Viksten '84) Van Wyhe to make sure it was OK that I wrote this, she responded that she was thinking about doing the same thing!

JANET (FOLKERS '84) HEEMSTRA
Tumwater, Wash.
---
SAUCY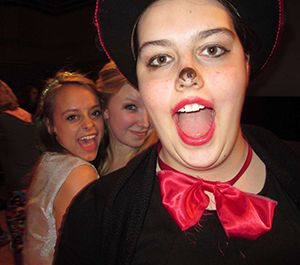 My sophomore year I was part of orientation staff. During the dinner at President Christy's house, I ate with Logan Wright '17 and Megan Cole '17. After we were long done, another staffer walked by and said, "Hey, you have barbecue sauce on your face." I said [to Logan and Megan], "Why didn't you tell me?" They said, "I thought it was a birthmark." Nowadays, whether eating dinner together in Disneyland, brunch in Denver, or Taco Tuesdays in Omaha, they always tell me when I have food on my face.
ABBY MCCUBBIN '16
Broomfield, Colo.
---
THE HAPPIEST PLACE ON EARTH




Richard Craven '84 and I first met in 1979. We got to know each other over many hours in the Playhouse working on the set of Pippin. We lost track of each other after graduation, but thanks to Facebook, our friendship rekindled. Recently Richard vacationed in SoCal and we met at Disneyland. We spent the afternoon rehashing many fond memories of Orange City.

MILTON HOLECEK '84
Riverside, Calif.
---
RECIPE FOR FRIENDSHIP
Marie Jeppesen '18, Beth Benschoter '18, Meridyth Lee '18, Darby Skillern '18 and I lived together on First North in Steg during my junior year at Northwestern. We became really good friends, mainly because of complex "would you rather" questions and dinner dates in the caf'. Following graduation, we've kept in contact daily with a group chat, and we started a [virtual] cookbook a la The Sisterhood of the Traveling Pants that has been sent around the country.
ABBEY SLATTERY '18
Raleigh, N.C.
---
A COMFORTING COINCIDENCE
Alyssa Currier '14 and I were matched as freshman roommates. We had chatted just a little before moving to college, but when we showed up, we both had the exact same bed cover! We knew it was a sign we would be great friends.
GRETCHEN (SUTHERLAND '14) MESWARD
Arvada, Colo.
---
STILL IN SCHOOL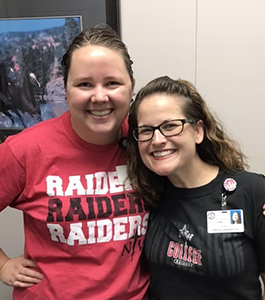 Katrina (Hilberg '06) Yang and I met in Northwestern's education department, but we didn't become best friends until we both landed jobs in the Houston area at different schools. Thirteen years later, we have seen each other get married, have babies, and go through life's ups and downs. And we currently teach at the same school!
KRISTY (WEGMAN '06) MICHEL
Tomball, Texas









---
SHARED DNA




Samantha Thomson '16, Arianne Gesell '16 and I continue to bond over our mutual interests: medicine, Jesus, and remembering our time together when we met in our FYS and general biology classes! We are busy, but we keep in touch when we can; when we get to hang out together, it's like no time has passed.

BRITTA (WILSON '16) TEN HAKEN
West Des Moines, Iowa
---