Game On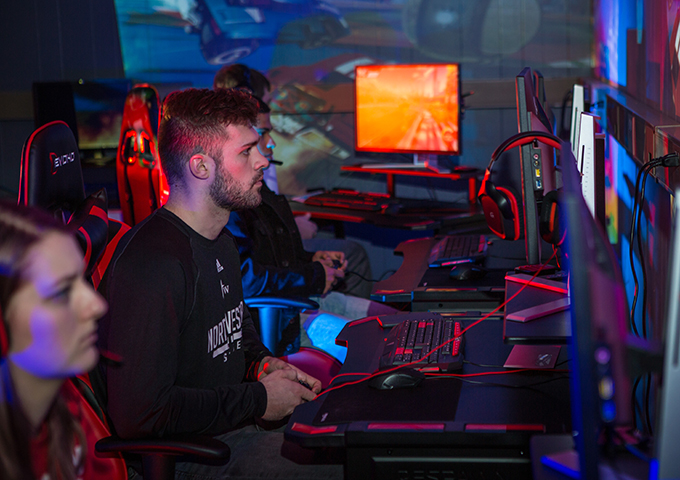 LEM MAURER
Each spring, an energetic group of students packs the lobby of Hospers Hall to sit in front of massive video screens and a top-notch sound system. As game time draws near, they check their brackets one last time and prepare to experience the thrill of victory and the agony of defeat.
But it's not March Madness they're watching.
This is the Hospers Video Game Tournament, one of Northwestern's newest annual traditions and a symbol of the growing "esports"—competitive video game playing—culture on campus.
Lucas Heiberger '18 wasn't sure what to expect when he organized the first Hospers tournament as a freshman in 2014–15.
"I really didn't have high expectations of this being something students would grab onto so much," says Heiberger, now an admissions counselor at Northwestern. "The atmosphere kind of blew me away."
In the 2018–19 edition of the tournament, 43 teams competed in the racing game F-Zero.
"Any time any two players were neck and neck, everyone would be going crazy," says junior Kit Fynaardt, one of the event's organizers.
The esports culture at Northwestern is becoming competitive in other ways. In January, the college launched a competitive esports club, vying in virtual matches with teams from schools like the University of Texas at Arlington and Western Kentucky University.
Starting in 2020, esports will become an official varsity sport. By then, NWC hopes to expand its arsenal of seven gaming computers (known as rigs) to 20. Fynaardt plays the game Overwatch for the club; Heiberger is an assistant coach.
"I think the budding gaming culture definitely fuels the esports team," says Lexi Van Surksum, a junior who competes in Rocket League as the only woman on the roster.
Heiberger says Northwestern's expansion into competitive esports is creating a meaningful niche for the school.
"It wasn't something I ever foresaw—Northwestern being a frontrunner in esports," he says. "But I think it's a really solid move because in 10 years it's gonna be huge."