Young Love and War Stories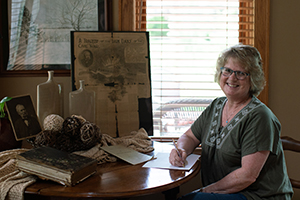 JENNI (SYBESMA '08) OCHSNER
Lt. Joseph Taylor Elliott clung to a staircase of the Sultana's burning wreckage, fighting to survive in the icy Mississippi even as his father, a Civil War general, received an invitation to the funeral procession for Abraham Lincoln.
In the spring of 1865, newspapers reported on a mourning country and the imminent end of the war—but hardly mentioned the worst maritime disaster in U.S. history.
Dr. Lila (Elliott '81) Sybesma found an account by Lt. Elliott, her great-granduncle, and reimagined the historical event as a love story. The Northwestern education professor penned Yours: The Civil War, a Love Triangle and the Steamboat Sultana, a young adult novel in which love triumphs over the greed that overloaded the boat and contributed to the loss of 1,200 soldiers and civilians returning from the war.
A reading specialist, Sybesma has presented the story in schools and had young readers proof early drafts. Her teenage nephew, a fisherman, consulted on a chapter set at a pond and declared the book "a fast read."
"Writing the book was a bit traumatic, because I had to be in the mind of a teenager going through the war," she says. "The easy part was writing about love; I'm lucky in love and have been married for 40 years. I'm still like a teenager in that aspect."
BY AMY PHILLIPS
---
Healthy Career Encouragement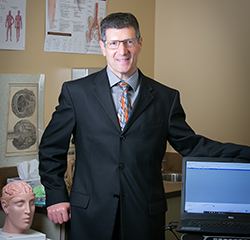 TOM SLUDER
The physical therapist who helped his grandfather walk again. The Northwestern alum who invited him to observe at his clinic. The hospital CEO, a mentor following his career closely, who opened doors in administration.
A succession of key people influenced the course of Mark Hartman's path from student to hands-on therapist to hospital administrator. Now Hartman '87 pays it forward by mentoring leaders in his new role as CEO of Colorado Springs Neurological Associates. Since September, he has led the physician multi-specialty practice with a focus on growing the number of specialties, partnering with hospitals and developing leaders within the practice.
"Physical therapy is rewarding because you see very clear results; you're doing work that is important and makes a difference," Hartman says. "But I like seeing the bigger picture of healthcare. Hospitals function as this entire community, with so much variety and incredible work happening."
One of Hartman's recent mentees, who began as a student pursuing an MBA in healthcare administration, now oversees 45 operating rooms across three different hospitals. Encouraging the gifts of this bright young man was satisfying, says Hartman.
"It's very rewarding to watch him grow and be successful, making a positive difference in the world."
BY AMY PHILLIPS
---
Beyond Oil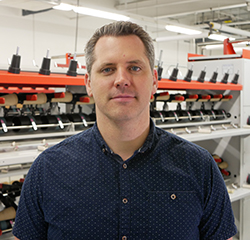 SUBMITTED PHOTO
The entrepreneurial career of Luke Haverhals '00 has centered on a very simple scientific reality: There is a total of 43 cubic miles of proven oil reserves on the earth, and the nations of the world consume about one cubic mile of that total each year.
"There's not enough petroleum for 7.5 billion people," he says. "That's a real problem if you stop and think about it."
It's a problem because, in addition to fueling our transportation, petroleum is a key ingredient in everything from plastic packaging to textiles.
Haverhals, who earned a doctorate in chemistry at the University of Iowa and serves as a research professor at Bradley University in Peoria, Ill., founded Natural Fiber Welding Inc. in 2015. The company makes textiles, vegan "leather," and rigid composites from plant fibers like cotton, wool and linen.
With about 25 employees, the startup's goal is to light a path past petroleum by replacing petroleum-based products with sustainable plant-based alternatives. Moreover, Haverhals says plant-based products will enable the developing world's economies to industrialize without creating conflict over increasingly scarce petroleum reserves.
Still, Haverhals says the vision is only possible if plant-based alternatives are of high quality.
"If you want to change the world," he says, "you actually have to make a product that works better."
BY JARED KALTWASSER
---
Transplant Manager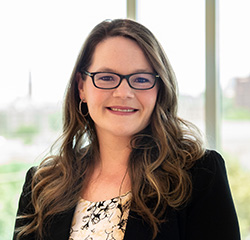 BRANDON JACKSON
Dana (Jensen '06) Blayney's mother was a nurse. It makes sense, then, that as a member of Northwestern's first class of B.S.N. graduates, Blayney found the stethoscope around her neck familiar, the 12-hour floor shifts expected.
But years as a charge nurse and then as living donor coordinator at Vanderbilt University Medical Center in Nashville, Tenn., brought Blayney in contact with kidney donors who needed her nurse's insight to guide them through the system and avoid any further hardships.
Moms and dads desperate to save their children's lives and selfless strangers willing to help anyone in need convinced Blayney to hang up her stethoscope and focus on a new passion close to her heart: living donation.
Blayney now serves as the manager of transplant and dialysis services for HCA Healthcare in Nashville, overseeing 12 transplant centers as well as in-patient dialysis at 180 hospitals.
"I get to take everything I know and be innovative," Blayney says. "All those years as a nurse I would dream about ways to improve things. Now I say, 'Let's see if we can find resources to make that happen.'"
Blayney's team streamlined the 60-day donor referral process to two hours online. It drastically increased referrals and led to HCA Healthcare having the most living donors of any hospital system in the nation in 2018.
BY AMY PHILLIPS