Beyond the Arc
BY DUANE BEESON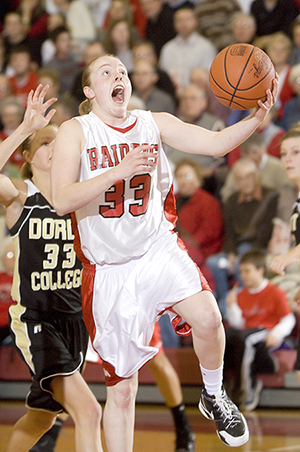 DAN ROSS
Deb Remmerde-Leusink's passion for basketball was legendary back when she became the leading scorer in Iowa high school girls' basketball and the NAIA Div. II all-time point producer. From practicing up to 12 hours a day in a machine shed court on her parents' farm to shooting free throws in a darkened Bultman Center to improve her accuracy, Remmerde-Leusink '08 was the picture of intensity.
"Without exception she's the best shooter I've ever witnessed at any level," says her Red Raider coach, Earl Woudstra '78, now Northwestern's athletic director. "That's a reflection of the amount of time she spent on shooting."
Remmerde-Leusink's hard work paid off. While at Northwestern, her teams compiled a 108-26 record, and she led the Raiders to a Final Four appearance in 2006 and the national championship in her senior year. A four-time first-team All-American, she set 11 NAIA records, including three-point field goals made (481), three-point percentage (.542) and free-throw percentage (.958).
She also broke all known organized basketball records when she connected for 133 straight free throws during the 2005–06 season.
This March, Remmerde-Leusink received another honor: induction into the NAIA Hall of Fame.
Following her standout Red Raider career, Remmerde-Leusink received a tryout with the Houston Comets of the WNBA, played professionally in Germany, and served as a graduate assistant at South Dakota State University. She returned to her alma mater in 2011 and was an assistant coach for five years.
Now home full time in Rock Valley, Iowa, with three children under the age of six, Remmerde-Leusink spends more time playing zone defense than practicing free throws.
"Basketball was my No. 1 for so many years," she says. "It was very much my focus and passion. Today that's my husband and kids. I'm absolutely loving being a stay-at-home mom. We're so blessed."
Remmerde-Leusink still has the ALL NET license plate that hung on her Chevrolet Equinox for many years. Now it's on a minivan.
New Sports Coming
Northwestern introduced two new competitive clubs during the spring semester: bowling and esports. The Raiders plan to field varsity-level programs in those sports in 2020–21. Prospective students will be eligible for scholarships for their participation beginning this fall.
For more on Raider sports, visit nwcraiders.com