Dream Fulfilled
Exploration and discovery have a new home in the DeWitt Family Science Center
BY ANITA CIRULIS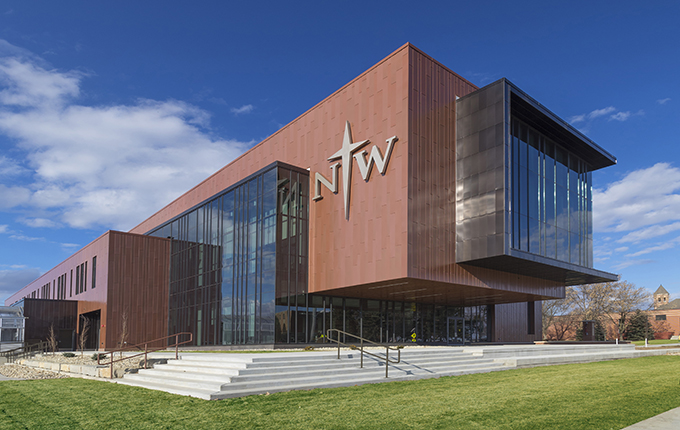 PAUL BROKERING
For decades, a disconnect existed between the strength of Northwestern's science programs, faculty and students, and the quality of its science facilities.
No longer.
Dedicated in September and opened for use in January, the Jack & Mary DeWitt Family Science Center is an investment in the lives and careers of future healthcare professionals, science teachers and researchers. It's a vote of confidence for the Christian education provided by Northwestern—one founded on the belief that truth is revealed through both God's word and God's world.
Planning for the building began in 2013; the college publicly launched its $30 million Discover Campaign in October 2016. Included in that goal were $24.5 million for a new health and natural sciences building and $5.5 million for student research fellowships, science scholarships, and a building endowment.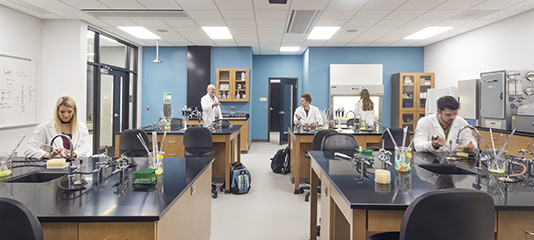 PAUL BROKERING
The 61,000-square-foot science center is named for Jack and Mary DeWitt, whose $6 million gift, the largest in Northwestern's history, enabled the college to break ground in April of 2017. Thankfulness for their generosity is especially felt by science faculty like Dr. David Arnett, professor of chemistry.
"Starting with the groundbreaking, I had this real sense of gratitude that people believed in what we were doing enough that they supported this kind of effort," he says. "That's not lost on me—the encouragement of, 'We think what you're doing is great. Let's be greater. Let's do more and be even better.'"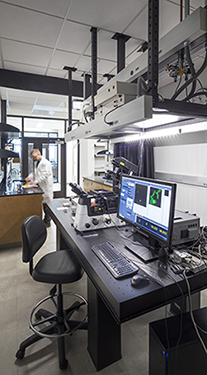 PAUL BROKERING
Arnett says the additional space and dedicated labs for research have increased his ability to be innovative in his teaching. And thanks to the Discover Campaign, Northwestern had the funds to purchase high-tech equipment like a $182,000 mass spectrometer and a $273,000 confocal microscope.
The biology department, likewise, is experiencing the impact of more—and larger—teaching labs, new research labs, and additional equipment, like an Illumina MiSeq DNA sequencer. Dr. Sara Sybesma Tolsma '84, professor of biology, previously had as many as 15 students in her Cell Biology class trying to share a single 4-foot bio-safety cabinet. Now that same class is in a lab with one 4-foot and two 6-foot cabinets.
"More and more students are asking for research opportunities, and if you don't have space, you can't say yes to them," she says.
Tolsma led Northwestern's application to SEA-PHAGES, a national program run by the Howard Hughes Medical Institute that's designed to interest undergraduates in scientific research. NWC is one of just two colleges and universities in Iowa participating in SEA-PHAGES, and Northwestern is unique in how it is implementing the program: Research is embedded into two sequential biology courses that students take as early as their sophomore year.
Tolsma, like many of her colleagues, is also conducting research of her own. She spent the spring semester on sabbatical, continuing to identify plant extracts that inhibit or slow the growth of cancer cells. Without the dedicated research space provided by the DeWitt Family Science Center, spending that sabbatical on campus would have been difficult.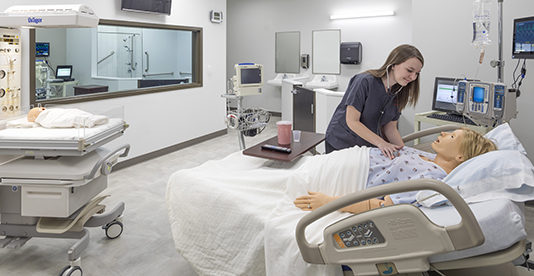 PAUL BROKERING
Nursing is another department impacted by Northwestern's newest academic building. Before, clinical labs took place in the former Orange City Hospital, located north of downtown, which required scheduling classes so students had time to travel there and back.
In the DeWitt Family Science Center, nursing occupies the lower level of the building. There are four mock hospital/doctor's office exam rooms, as well as a classroom with stations where students can practice their nursing skills. Three simulation rooms—obstetrics, pediatrics and medical/surgery—are connected to faculty observation rooms via two-way mirrors. There's also a centrally located control room that enables a single instructor to run multiple simulations at the same time.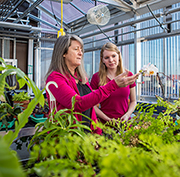 LEM MAURER
"It's been a joy to be integrated with the rest of campus," says Dr. Karie Stamer, assistant professor of nursing. "Biology and chemistry play a huge role in the care our nursing students provide. It's important for students to see our departments working together and how all of what they're learning is related."
That integration—of disciplines with one another and of the study of science with faith in God—is among the reasons Northwestern science graduates are known as standout healers and caregivers, researchers and teachers. Not only are they smart, they also reflect the light of Christ wherever their careers and lives take them.

The Witness of Scientists
Profs share how their faith and science inform each other
Dr. Sara Sybesma Tolsma '84
Professor of Biology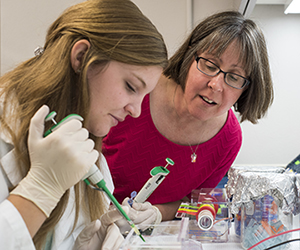 DOUG BURG
It happened 30 years ago, but Sara Tolsma remembers the moment like it was yesterday. Working as a research technician at Northwestern University, she was counting colonies of cells when she suddenly realized why that cell line didn't make tumors in animals.
"That was a really transformational moment," she recalls, "because there was this point where I knew something about the natural world that only God knew, and God was allowing me to share that little piece of knowledge."
The privilege of studying what God created is Tolsma's motivation for doing good science. It's also a way she experiences intimacy with God. "When I make a discovery, I'm going to share it, but for a moment, I share it with God alone," she says. "That's an act of worship. I experience awe and wonder."
A Northwestern College graduate, Tolsma credits her church, parents and professors with teaching her that science and the Christian faith complement each other and, when integrated, affirm the truth found in both. That belief spurs her to help others develop a similar perspective. She has written about the relationship between science and the Christian faith, as well as the importance of engaging young people in conversations about that topic.
Those conversations are woven into each course Tolsma teaches at NWC. Science and faith play a part in everything from questions of origins to the ethnics of gene editing. Tolsma wants her students to master the material in their biology courses, but most of all, she wants them to know there isn't a conflict between science and faith.
"The gospel is strong enough and big enough for all of their questions."
Dr. David Arnett
Professor of Chemistry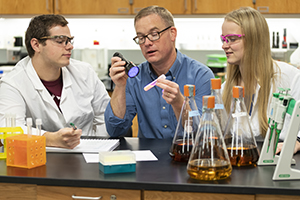 DOUG BURG
Dave Arnett doesn't remember when he first started thinking about being a scientist.
"My dad really cultivated a curiosity about the world," he says. All of our vacations were focused on seeing a piece of nature.
Arnett grew up playing with chemistry sets, doing experiments, making model airplanes, and collecting monarch butterfly eggs to raise into caterpillars. He attended Eastern University in Pennsylvania, fell in love with physics, and graduated knowing he wanted to teach chemistry at a Christian college.
Arnett sees parallels between working in the lab and being in nature. "You get to the top of a mountain, and you look out and it moves you to worship," he explains. "With the science I do, I have those experiences. It continues to add to my feelings of awe."
When explaining how science informs his faith, Arnett points out how, in his field, different theories explain different aspects of chemical bonds. "We're comfortable moving from theory to theory, depending on what we are attempting to understand."
Arnett sees that same approach helpful when it comes to his Christian faith. As an 18-year-old, he thought of faith predominantly as a set of beliefs. Now he sees faith more as a response to God, one that is consistent with God's nature and loving to others.
"I started to understand my changing views as different models, each of which is true," he says. "I can think about right theology and I can think about loving action, moving back and forth between the two. They both add to my understanding of what it means to live a Christian life."