Fruit of the Vine
BY EMILY (MUILENBURG '11) RASMUSSEN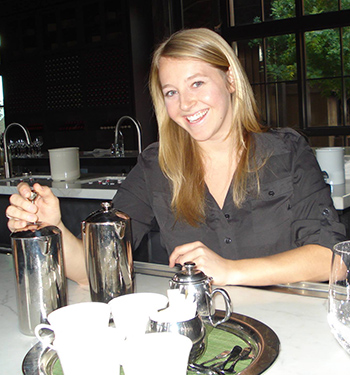 LISA (WAITE '83) MUILENBURG
I stared at my computer screen for a minute. The page, haphazardly translated from German into English, described a Schloßböckelheim Felsenberg Riesling Beerenauslese. From the chopped-up text, I could tell it was something about a multigenerational wine-growing family and a famous sweet wine. The bottle that catalyzed my search stood alongside a dozen others on my desk; my work for the day was to translate these concepts, so foreign to me, into sensible information.
The majority of the labels were French, some were Spanish, and a few, English. I toggled the page back to German—somehow, though I relied on Google Translate all day, it was easier to understand the story if I read in the original languages. I got a major adrenaline rush from dissecting each sentence and looking up so many new words in one day: viticulture, enology, varietal, appellation— words that are now as familiar to me as noun, verb and bibliophile.
I joined the wine industry by marriage. Cody, my husband, found his passion for wine in the pizzerias of Rome, so we headed post-nuptials to Sonoma County, Calif., where he could apply his Williams College political science degree to a harvest job cleaning juice-stained winery equipment. I thought, "I'm an English major—why not?" and followed his lead.
I began working for a wine sales website, utilizing my undergraduate language studies to interpret wine labels and, later, write sales copy. As I exercised my adjective muscles, Cody quickly landed an assistant winemaker position (I call it "liberal artsing"). Before his new job began in July of 2013, we jaunted south to New Zealand for our third harvest. I picked grapes and stirred yeast into wine-filled barrels and was stickier than I'd ever been in my life—but also enamored by the beauty of a vine and its fruit's fermentation.
My current job no longer offers the linguistic diversity of the first, but as the communications manager for Ram's Gate Winery in Sonoma, my vino vocabulary grows daily with what I've now coined oeno-logisms. They range from science-y terms like malolactic, brettanomyces bruxellensis and botrytis to words that encompass a wealth of wine flavors: feijoa, garrigue, tamarind, capsicum, beurre noisette.
Although I sometimes romanticize it, my life isn't all that different from college. I write, I talk too fast, I somehow get paid to be on Facebook, and mostly, I try to advocate my credo that wine is a creation, a craft. It isn't a thing to be worshipped—but its Creator sure is.
I can't help but get dramatic about it all, especially on the first day of harvest when the whole county smells like freshly picked grapes. The verdant lineations that cover the countryside often leave me speechless—and let me tell you, that is a major feat. Punctuating the silence are always the same words, the chorus to our life:
"I am the true vine, and my Father is the vinedresser. … As the branch cannot bear fruit by itself, unless it abides in the vine, neither can you, unless you abide in me. I am the vine; you are the branches. Whoever abides in me and I in him, he it is that bears much fruit, for apart from me you can do nothing." (John 15:1, 4-5, ESV)
Vines require adversity. Without suffering in parched, rocky soils, a vine can bear fruit, but it will taste bland. Yet despite its affinity for overcoming struggle, a branch could never, ever bear fruit apart from the vine.
Had I been in charge of my future, I would never have planned it to be like this. At every crack-of-dawn harvest and twilight fraught with frothing fermentations, I am surrounded by words and vines and branches. The Vinedresser of John 15 knew his plan for me would put to use those three semesters of French, that dabbling in German, "mi concentración menor en español" and my zeal for words, just as he knew the best way to help this English major know his abiding love: by immersing me daily in a metaphor.
A Sonoma Valley resident since graduation, Emily Rasmussen says she felt shaken—no pun intended—and very small after experiencing her first earthquake in late August. The wineries for which she and her husband work suffered little damage from the 6.0 magnitude quake, unlike many others in the region.