Eat Hearty
EDITED BY TAMARA FYNAARDT
ILLUSTRATED BY DAVE MALEC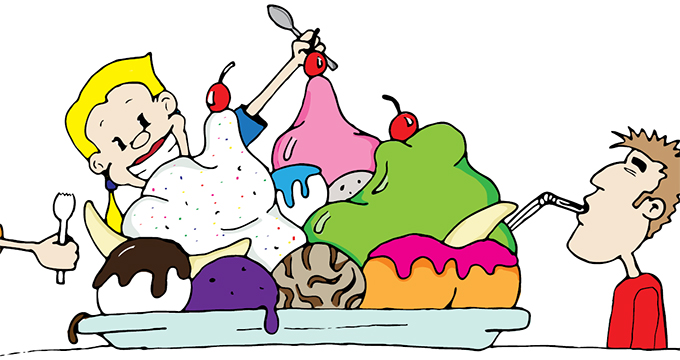 Alumni savor memories of the caf', where the only thing more nourishing than the food was the friendships.
Ice Cream Sundays
On "Sundae Sundays" we used a tray to make a humongous ice cream treat—enough to feed the whole table!
SARAH (WYNIA '03) SMITH
Elm Grove, Wis.
---
A Mashing Success
I worked in the cafeteria in 1977. You've not experienced real culinary delight until you've made several hundred pounds of mashed potatoes with a giant mixer. I always put in extra milk and butter and was told my mashed potatoes were the best!
JUDY (BEMIS '77) LOPEZ
Geneva, Ill.
---
Ripe
When I was a student, the caf' had two entrée options. As you were standing in line, just before you turned the corner from the hallway into the serving area, there was a table with two cellophane-wrapped plates of food to whet our appetites.
One day Darin Wiebe '88 tucked one under his coat and took it back to Coly, where we hid it in the room of Paul Dougherty '87, Dave Izenbart '89 and Perry Krosschell '87.
After a day or two, a faint sour smell was developing—worse than usual for a room with three football players. After a couple more days the guys were changing deodorants and buying air fresheners.
Eventually they discovered the plate from the cafeteria—by that time, covered in green fuzz.
JON OPGENORTH '88
Orange City, Iowa
---
Stress Snacking
I remember the caf' being open late during finals week. We'd congregate there for a break, a snack and to swap studying stories.
KIM (KILPATRICK '89) CARRIGAN
Spencer, Iowa
---
Sugar Cereal
A favorite caf' memory? Lucky Charms—with ice cream instead of milk.
JILL HAARSMA '95
Orange City, Iowa
---
Mooving Right Along
All four years of college I was afraid to get self-serve ice cream because the guys sitting near the machine would "moo."
KIERSTEN (LANGENBURG '95) LEWIS
Orange Park, Fla.
---
Steaking Out Prime Positions
On steak night we were usually in line by 4:30. It was the only night when most of the students—and even a lot of professors—ate in the caf'.
KAY (HEKTER '97) WYNN
Austin, Minn.
---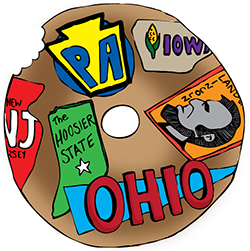 East Coast Eats
I introduced Northwestern to bagels! I had some sent to me from New Jersey and talked the servers into trying them. They were skeptical, but after tasting my bagels, they put in a small order (shipped this time from Omaha) and ran out in one afternoon. It wasn't long before bagels were a regular item on the menu.
MARTHA (PARSIL '84) SPIEGEL
Norwich, N.Y.
---
Dine and Dally
One year I didn't have class on Tuesdays or Thursdays so I spent the maximum amount of time in the caf' during breakfast, lunch and supper, "fellowshipping."
TYSON GRAHAM '04
Wesley Chapel, Fla.
---
Bucks for Guts
Friends and I once pooled our money to bet a wingmate he couldn't drink a whole glass of A1 steak sauce. He came away from the experience a little green around the gills but $18 richer.
MATT AUSTIN '05
Orange City, Iowa
---
Floating Away
I walked out after every meal with a bowl of vanilla soft-serve topped with Sunkist soda. (I returned all the dishes at the end of the semester.)
VAUGHN DONAHUE '08
Orange City, Iowa
---
Just Desserts
Julia Redfield '09, Andrew Klumpp '10, Jessica Pomerenke '10, Sarah (Kreger '09) Walker and I bonded so well on O-Staff [Orientation Staff] and stayed connected by having lunch together every Thursday. Each week one of us took a turn creating a dessert for the table to share.
BRYCE BOOK '09
Dakota Dunes, S.D.
---
Gravy Trained
Becca (Bruns '09) Ulibarri and I never missed a Monday night in the caf' because they served our favorite: biscuits and gravy, which we shortened to "B&G." We even went back once after we graduated and enjoyed another B&G meal.
JESSICA POMERENKE '10
Sioux Falls, S.D.
---
Dealing Between Meals
Sophomore year on Friday afternoons, one of my friends would stay in the caf' after lunch until the rest of us got out of our afternoon classes. Then she would let us in the back door so we could play Nertz for hours. The staff preparing supper didn't seem to mind and even let us have pop.

SARAH (VAN LEEUWEN '10) WEINS
Sioux City, Iowa