Ramaker Redux
BY ANITA CIRULIS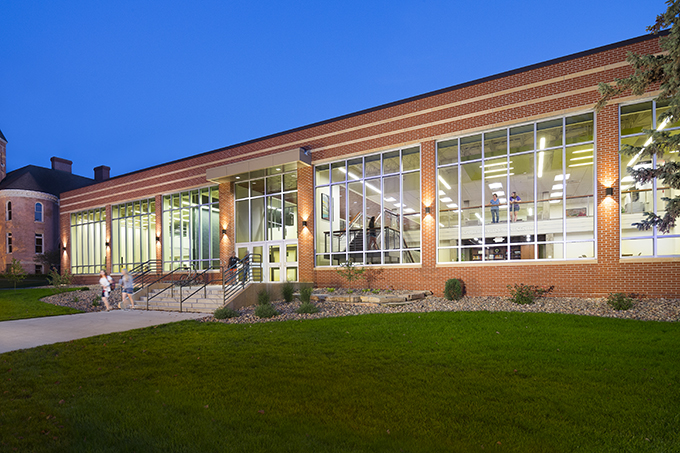 PAUL BROKERING
Northwestern's former library is the new centrally located home for student services following a yearlong $4.3 million project that saw the building gutted and transformed. Offices and departments once located in the Rowenhorst Student Center on the campus' south side and the former Franken Center on its north are now under one roof.
"We believe education happens as much outside of the classroom as it does within," says Julie (Vermeer '97) Elliott, dean of student life. "Our new location reflects our central role in educating students."
Renamed the Ramaker Center, the building provides a bright and contemporary setting for student and residence life, career development, student programs, intercultural/international development, campus ministry, study abroad and the Integrated General Education program, as well as the Franken Leadership Center.
The library's mezzanine layout was maintained in the remodel, providing views of main floor lounges from the second floor, while its expansive north windows showcase the campus green. Exposed ductwork and concrete pillars give Ramaker a modern, industrial feel that is balanced by warm colors, patterned carpet and textured fabrics used for the furniture. An openness characterizes the building, thanks to glass walls used for offices and conference rooms and a cable rail system on the second floor and on a newly installed north stairwell.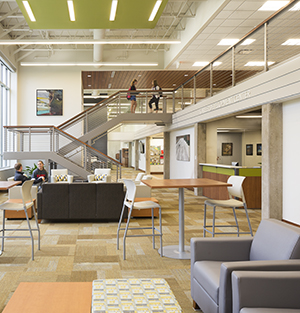 PAUL BROKERING
Elliott says both Ramaker's design and location are impacting students and staff. "The choice to have glass walls has been a really great thing—it's increased our interaction with one another as a staff and it's made it much more inviting for students to just drop into our offices and talk because they can see us," she explains.
Locating student services in one building is more convenient for students and has increased the visibility of programs—particularly those of campus ministry and career development, which formerly were located in the Franken Center.
"It's provided us with a lot more exposure to students," agrees Bill Minnick, director of career development. "There are opportunities to have impromptu conversations and for students to stop in as they walk by."
A new entrance on Ramaker's north side and a wide central corridor are designed to encourage student traffic through the building. Lining that main hallway are displays showcasing the offices and departments in Ramaker and Northwestern's mission as a Christian academic community—a visual representation of the important and central role student services play in the life of the college.