Culinary Delights
BY AMY SCHEER AND DUANE BEESON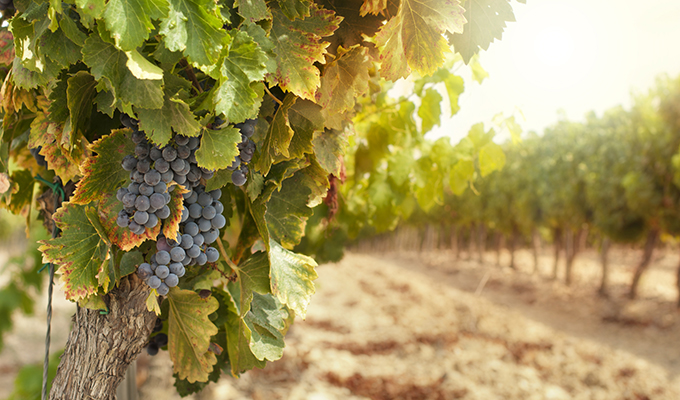 In Minnesota, Utah and Michigan, three Northwestern alumni are pleasing the palates of their many customers. While at Northwestern and eating their three squares a day in the caf', they were majoring in art, political science and religion. Since then, their careers have taken many twists and turns, but their passions for crafting delicious chocolate, wine and coffee have won out. Grab your favorite drink and make yourself comfortable as you indulge in their savory stories.
Sweet Sensation
Smooth, creamy goodness starts with a 140-pound sack.
Kristin (Spidahl '09) Mohagen and her husband, Josh, declare a "sorting day" and tear open the bag of cacao beans, separating big from small with a 100-year-old mill.
Next, Kristin roasts the beans—now named "cocoa"—and removes the nibs from their outer shells. Adding a little organic cane sugar, nothing more, she stone-grinds the nibs for three days. Tempering the chocolate will follow; fortunately, a recent equipment purchase has greatly sped up this heating process to achieve the desired texture and color.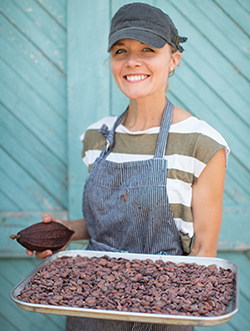 JENNI (SYBESMA '09) OCHSNER
Now the chocolate rests in bar molds, forming an indulgence to meet the most discerning of tastes. Finally, the last step: careful packaging by hand and a label proudly promoting "Terroir Chocolate."
As one of approximately 60 bean-to-bar craft chocolate makers in the United States, the Mohagens are "all in," as they put it, spending long days in a commercial kitchen housed at her parents' farm in Fergus Falls, Minn. Where a chocolatier would purchase already tempered chocolate, the chocolate maker starts at the ground level.
"The bean we begin with is everything," says Josh. "Kristin makes sure you can taste the bean the best way it can be presented. It's an art, just like coffee roasting."
A honeymoon trip to Napa Valley's vineyards in 2013 hooked the couple on the concept of terroir, a French word they've translated into the slogan "taste of place": a distinctive flavor imparted by a region's characteristics, such as climate and soil conditions. A tour of a chocolate factory confirmed that the term, typically used in reference to wine, could easily apply to chocolate, and Terroir Chocolate was born shortly after the couple returned home.
Their craft is both unique and impractical, jokes Josh, but the result is a single-origin chocolate that preserves the personality of its source.
"We get beans from Madagascar, and the chocolate tastes like citrus," says Kristin. "Beans from Peru—bananas and mango. The flavors are completely different, even though it's just cocoa beans with a little sugar."
The Mohagens source their beans directly from farmers, paying above-market prices to encourage industry sustainability and to maintain ethically sound practices. At a recent conference they attended, a cacao farmer from Nicaragua, whose beans were used in what was voted "best bar," became emotional at the appreciation for his labor and at the realization that this success will finance his children's education. In a few months, Terroir Chocolate will feature bars made from this winning bean alongside the products already selling fast in their town's specialty stores and via their website, tasteofplacechocolate.com.
Someday the chocolate makers hope to travel to meet the farmers who partner with them. Kristin wants to shake hands with the people who produce flavors she never thought she'd find back when, as a student at Northwestern, she started a truffle-making business to raise funds for a Spring Service Project.
Though she brought in more than $800 for her handmade treats, what she spent to meet her high standards nearly broke the budget. "I was always disappointed in the quality of chocolate available," Kristin remembers. "I spent so much money because I was so picky."
Years later, Kristin is still picky—only now it's paying off. And Terroir Chocolate suppliers and customers around the world are benefiting from her good taste.
Terroir Chocolate's Top Indulgences
Madagascar 70% with ginger
Ingredients: organic cocoa nibs, organic cane sugar, ginger
"So much intensity of flavor. A little square is the perfect end to a meal." – Kristin
Salty Nibber
Ingredients: 48% fine milk chocolate, roasted Madagascar cocoa nibs, fleur de sel
"Josh's favorite. We have to package these bars quickly so he doesn't eat them all." – Kristin
Peru 70%
Ingredients: organic cocoa nibs, organic cane sugar
"I didn't know that chocolate could have such a fruity flavor!" – a Terroir customer
Fruitful Venture
In the shadow of the Wasatch Mountains, in a southern Utah county that's 62 percent Mormon, Doug McCombs '82 is seeing his gamble pay off. Tucked behind a historic bed and breakfast just two blocks from the Tony Award-winning Utah Shakespearean Festival, McCombs' IG Winery is winning awards of its own.
The winery doubled its production this year after opening in 2012, bottling 1,200 cases of wine (8,000 gallons). McCombs, a 30-year human resources professional in the Las Vegas gaming industry who is a vice president at Hard Rock Hotel Casino, makes the 180-mile drive up Interstate 15 to Cedar City, Utah, nearly every weekend to fill bottles with Chardonnay, Riesling and other varietals. With only one full-time employee and four part-timers, McCombs is both IG's big decision maker and its winemaker.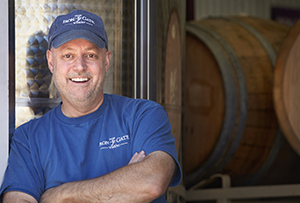 GERI KODEY
A reluctant participant in a wine-tasting course decades ago, McCombs became intrigued enough to go with some friends on a Napa Valley weekend. "I wanted to take every tour, talk to every winemaker and learn all the secrets they would tell me. I couldn't get enough," he says. He enrolled in more wine classes, earned certifications from the Wine and Spirit Education Trust, planted 100 vines in his backyard, and got his hands dirty crushing, pressing, fermenting, racking and testing wines. By 2006 he knew he wanted to open a winery.
After exploring opportunities in traditional wine country, McCombs decided to begin his business in southern Utah, where five million tourists a year visit nearby sites such as the Bryce Canyon and Cedar Breaks national parks and there is no competition from other wineries.
McCombs imports his grapes from well-established vineyards in California, Oregon and Washington and produces four white wines and five reds. Thirty restaurants—from Utah and Vegas to California—carry IG Winery's products. The winery also has significant sales at its tasting room and at igwinery.com.
"I love dealing with all aspects of winemaking, from finding the grapes and tasting them for sweetness and ripeness to doing everything involved in developing a specific wine," says McCombs.
The winemaker likes to joke that his job is all about sipping wine on the veranda with the beautiful people, but in reality McCombs' time is spent trying to anticipate future demand for his wines and thinking about how best to expand IG's production capacity as they shoot for 20 percent growth next year.
He does pause occasionally, though, to pour some of the 2012 Roussanne out of its aging barrels for a taste test. It's a tough job, but someone has to do it.
The Winemaker Recommends ...
Petite Sirah 2009 – Napa Valley, Calif.
This red wine is a blend from two excellent California vineyards. The majority is from Napa, with a bit from the Sierra Foothills, which adds structure and balance to the wine. This wine pours dark and mysterious and looks beautiful in the glass. The nose teases with notes of black cherry, blackberry and hints of cocoa all layered in just enough vanilla and toasted oak. The palate delivers what the nose promises with bold flavors of dark ripe fruits, soft spices, baking cocoa and solid tannins.
A Gold Medal winner in the 2014 American Wine Society competition, this wine goes perfectly with beef dishes, pasta in red sauce, game, wild duck, grilled vegetables, sharp cheese and chocolate.
Roussanne 2012 – Sierra Foothills, Calif.
This is the white wine for red wine lovers because it is elegant in every way. The Gold Medal-winning wine is barrel-aged for 24 months in French and American oak, then blended with a little Riesling to give the wine just the right acid. The color is clear and bright with a rich golden hue of light honey. The nose promises soft notes of honey, butterscotch, caramel and a hint of oak, graphite and slate. The palate backs all that up, offering white peach, light yet unsweetened honey, and oak with a slight stoniness on the finish.
This pairs well with traditional holiday turkey meals and is also recommended with pork, veal, salmon and dozens of cheeses.
- Doug McCombs
Brewing Community
In the low-lit bottom level of Lantern Coffee Bar & Lounge in Grand Rapids, Mich., dark cherry tables pair with refurbished pews for a cozy, intimate feel. Splashes of color catch the eye: Lantern, as part of a citywide event, has indulged an artist's crocheted "yarn bombs," which hug poles, exposed pipes and even the bicycle parked outside. Other artwork, curated by theme in rotating exhibits, lines the walls.
Upstairs, natural light warms the room as Steve Wiltjer '06 explains how the pour-over method, achieved by allowing a continuous stream of water to move over and through the grounds directly into your cup, highlights the nuanced notes of the coffee bean. The flavor profile will change as the coffee cools, accenting the acidity, he says, but some brews are best at room temperature. As with a fine wine, the roasted coffee bean can change subtly from one day to another, telling a new story in the next cup that holds it.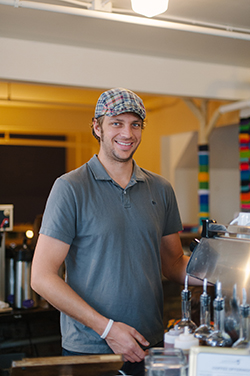 JENN ANIBAL

Wiltjer opened Lantern in 2013 with fellow alum Kevin Wallace '11, who is married to Wiltjer's sister, Lisa '10. The coffee bar offers locally baked goods, live music and a "waste-free" environment, composting what the owners can and encouraging customers to join the recycling effort.
In order to offer his clientele fresh, seasonal tastes they might not experience otherwise, Wiltjer seeks out guest roasters such as Detroit's Anthology and even local shops that could be considered competition. Bay City's Populace Coffee is regularly featured on Lantern's menu. Ever since the company sent free samples to Wiltjer back when he ran a small coffee bar inside a grocery store, the ethics shown by Populace when sourcing beans and their skills in roasting them have kept Wiltjer dedicated to what he calls a "long-term relationship."
Hints of caramel and lemon rise from a Populace Costa Rican brew recently on offer, nicely matching the warmth and liveliness of the décor. This meeting of place and product is what Wiltjer does best.
"I'd been interested in having a coffee shop since college," says Wiltjer, who is a certified barista with the Specialty Coffee Association of America. "I fell in love with the type of space it could create. A lot of shops here in town do one thing really well—good coffee or a good place to meet—but I wanted to bring all that together."
A visitor to Lantern's Facebook page commented on a time when a homeless man took over a table, apparently without the intention of making a purchase. "They treated him with respect and gave him a coffee instead of kicking him out," she wrote. "Definitely makes me want to come here more often."
Wiltjer had considered finishing a seminary degree but has found his calling at Lantern. "Offering this space and participating in the neighborhood as we do is a special, sacred thing," he says. Operating a business downtown in the vicinity of shelters can be a struggle, he admits, noting the incidents when a free cup of coffee led to combative behavior rather than kind online comments. But here the nuances of community, brought out by the meeting of regulars and homeless guests in a comfortable, welcoming space, are just as important as the great cup of coffee.

Six Tips for a Better Cup of Coffee
Use good coffee. Not all coffee is created equal. Buy from a roaster that is sourcing high-quality beans. If the coffee varietal (such as Typica, Bourbon, Pacamara) is listed on the bag, they're probably paying attention.
Don't let it sit. The fresher, the better. Buy seasonal coffee if you can, and use it within two weeks of the roast date.
Grind it. Grinding coffee releases loads of flavor and aroma. Grind it right before you brew; a burr grinder is best.
Use good water. The better the water, the better the coffee. Properly filtered water is best. Water that is too hard can ruin even the best coffee beans.
Let it cool. Don't use boiling water—let it cool down a few degrees first. Water that's too hot can wreck the brew.
Weigh it. You'll want to use about 15 grams of water to one gram of coffee. Measuring isn't as accurate as weighing.
- Steve Wiltjer