A Taste of Home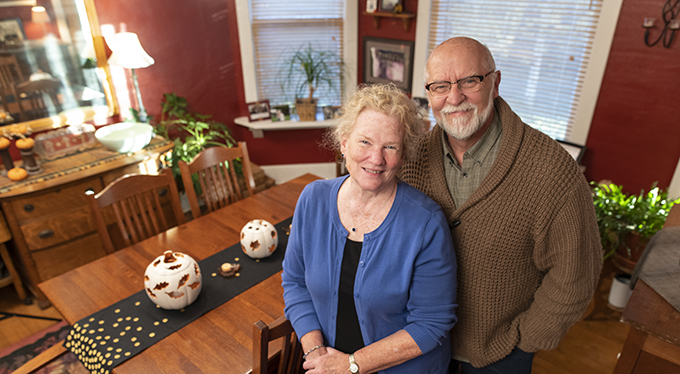 DOUG BURG
The dining room table is set for 12, the kitchen table for six, and a table in the den for four. The sitting room coffee table serves as the "kids' table" and a drop-leaf table seats four more. It's Thanksgiving at the Barkers'.
Reflecting on their move to Orange City 30 years ago, Jeff and Karen Barker warmly remember sharing their first few Thanksgiving holidays with fellow faculty and staff at the former RSC Snack Bar.
As their family grew, the Barkers chose to spend the holiday at home—and they invited Northwestern students to join them. Today the offer still stands, and the Barkers host 15 to 25 people—students, family and friends—each year for a Thanksgiving meal of turkey, stuffing, mashed potatoes, scalloped corn, cranberry relish and pumpkin pie.
While the "traditional" menu is always set, the Barkers aim to make the holiday feel like home for students. "I ask them, 'What is Thanksgiving for you?'" says Karen. "If their family always has a fruit bowl, we try to have a fruit bowl."
Dinner isn't the only tradition at the gathering: Games, music and heartfelt conversation centered on "What are you grateful for this year?" are always part of the festivities.
"As students, it was so important to have a taste of home at Thanksgiving," says Vaughn Donahue '08. He and his wife, Becky (Fanning '05), have spent the holiday with the Barkers nearly every year for 15 years. "Our daughters have never spent Thanksgiving anywhere else," adds Vaughn, who now prepares the turkey.
"Thanksgiving with the Barkers is a testament to how personal the professors at Northwestern are," says Alexander Lowry '20, who attended as a freshman. "Inviting students to such a family-centered event shows how much they care for all of us."
When Easter approaches in April, the Barkers will again extend an invitation.
Easter, after all, is another time when families gather together.