Life Coach
BY DUANE BEESON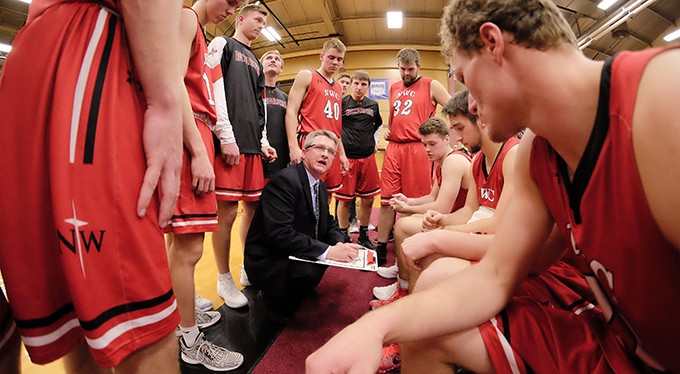 JERRY MENNENGA
Spend a few minutes with Kris Korver '92 and you'll near numerous "Korverisms"—short, inspirational mantras.
"Plant a tree you'll never see."
"With Christ in the vessel, I can weather the storms."
"There's no room for show ponies; you gotta be a workhorse."
The hundreds of men who have played basketball at Northwestern under Korver's leadership have heard a lot of them. And though they may have rolled their eyes at the time, Red Raider alumni now reflect on them as wisdom.
"It's almost entertaining to think how much more important Coach Korver's lessons about being good husbands and fathers were than the basketball lessons," says Jerod Hoegh '03. "Those life lessons stand out much more than the actual on-court lessons."
Tajuan Jackson '06, pastor of a church in Sioux Falls, preached about Korver's "Follow your faith, not your feelings" saying recently when his mentor came to visit. "He took a 19-year-old immature boy from Long Beach, California, and helped develop me into the man I am today," says Jackson. "A lot of things that are vital parts of who I am are attributed to him."
Now in his 19th season at Northwestern, Korver is the school's all-time winningest coach. Prior to this season, his teams had compiled a 421-159 record, including two national championships.
"I want to win," he says, "but I don't want to be in love with the outcome. I want to be in love with the love Jesus has for me, and I want to be in love with caring for a bunch of guys. This is an awesome opportunity to invest in the next generation of leaders."
As Korver often says, "Live with the end in sight."