Living Faith
Northwestern helps high school students dig into the Bible
BY ANITA CIRULIS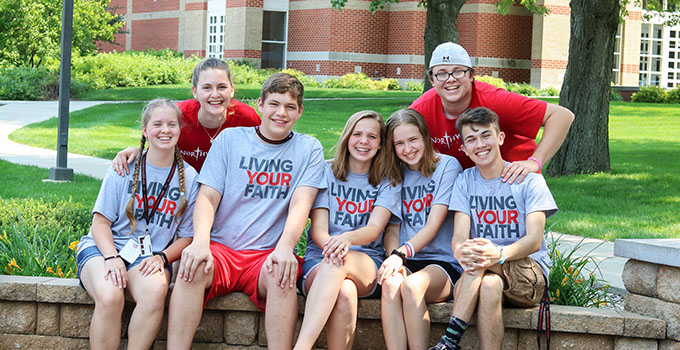 KAREN (HOP '74) VANDERMAATEN
Think of it as a Christian boot camp. For five days in June, dozens of high school students gather on Northwestern's campus for an intensive week of study, worship, prayer, service and community-building.
Living Your Faith (LYF) is a youth theology institute funded by a Lilly Foundation grant and designed to help teenagers explore and deepen their Christian faith.
"Studies show young people are leaving the church," says Daniel Den Boer, LYF director. "Lilly decided to invest in a program that makes a strategic impact. Living Your Faith is attempting to prepare church and Christian community leaders at an early age who are well trained, well formed, and hungry for the ways theological reflection can guide their thinking about issues in the world."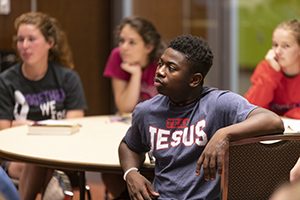 DOUG BURG
Beginning with campers' arrival Sunday afternoon, each day provides a wide variety of learning opportunities. Teaching sessions are led by professors from the biblical and theological studies department, as well as campus ministry, global education and multicultural development staff.
"We want LYF participants to feel comfortable with the Bible and to have confidence in reading and interpreting it," says Dr. Jim Mead, department chair. "We also want them to see their primary identity as God's children and brothers and sisters in Christ—and to understand that all of us are participating in God's mission in the world."
Toward those goals, each day incorporates time for research, reflection and journaling; praise and worship; small-group discussion; and community prayer. Campers are introduced to spiritual practices such as meditation, Scripture reading and different types of prayer. And each afternoon they serve as the hands and feet of Christ—this year helping local flood victims deal with water-soaked basements, deep-cleaning a women's housing ministry, and preparing an Orange City park for a city-wide Latino festival.
The connections that develop between the campers and the Northwestern students who are hand-picked to serve as their mentors are a vital aspect of the week. Living Your Faith has a camper/mentor ratio of 2 to 1, and the college student mentors meet weekly with Den Boer during the prior school year, learning about theology, small-group leadership, community-building and teaching methods.
"My favorite part was the behind-the-scenes facilitation we did," says Allyson Pettit, a junior from Andover, Minn., who served as a Living Your Faith mentor for the second time in 2018. "We were intentional with the activities we did, and then we watched the relationships form between the campers and saw them open up and be vulnerable and honest."
"Campers tell us they've never gotten so real and so deep with a group of people," agrees Dana Van Ostrand, another Northwestern student mentor who plans to go into the ministry.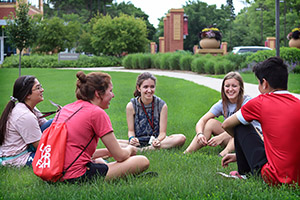 At the conclusion of the week, Living Your Faith participants can choose to continue being mentored by a Northwestern student. Van Ostrand has weekly phone or Facetime calls with his mentoree. LYFers can also choose to sign up for Leading In Your Faith, which places them in apprenticeship positions of leadership in their home church, helps them mentor a middle school student, and supports them as they design a service project of their own.
Under Den Boer's leadership, Living Your Faith has grown from 20 teens and nine mentors in 2017 to 27 campers and 13 mentors in 2018. The number of participants from historically underrepresented populations has also increased to 18 percent of the campers and 30 percent of the mentors.
Den Boer believes the ultimate measure of the program's success will be if churches see it as important for the leadership development of young people and invest in it.
"We're going to try and make the biggest impact we possibly can and then leave the rest in God's hands," he says.



Watch video highlights from Living Your Faith 2018.