Remember the Alamo
BY ABBEY SLATTERY '18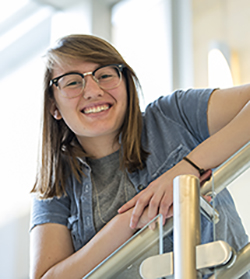 Now that I've been a Northwestern graduate for seven months, it's amazing how much of my life I have figured out. Everything I've accomplished thus far in this new "adult" chapter—like finding a job, buying a house and making tons of new friends—has been super simple. A lot of people ask me: "How do you do it all?" And I answer: barely!
My first job out of college (if you don't count marriage—am I right?) was an unpaid internship for a food truck. Well, unpaid if you don't consider free trays of dumplings a payment. My second job was as a runner at a movie theater chain called the Alamo Drafthouse, where I was fortunately paid in dollars and not dumplings.
As a runner, my job consisted of placing food and drink orders onto giant, sticky trays, carrying those trays on one hand into the theater, and then handing out the orders to the corresponding seat numbers. Job benefits included developing minor arm muscles (there's probably a name for those, but I don't know it) and getting really good at memorizing short number combinations.
I spilled full drink trays two times (drenching myself in soda and breaking glass in the process) and full food trays another two times (which resulted in me scrubbing ranch dressing out of the hallway carpet). I was not fired for either of these workplace accidents, but I was severely and rightfully made fun of. It was easy work mentally but physically exhausting and, above all, very sweaty.
Even though I had a job, I was reluctant to talk about it with people from college because I felt like it wasn't good enough.
I had been applying for jobs in Raleigh since the March before graduation. I cannot tell you how many files on my laptop are saved as "[insert company name] cover letter." Dozens. And I haven't deleted a single one yet.
I thought finding a job in my field would be easy, and then I could climb through the ranks until I eventually got my dream job. In reality, I sent in applications, talked with potential employers on the phone, went in for several interviews around the area, and did the whole song and dance so many times it felt like the longest musical production known to man.
And every time, a few weeks would pass and I would get the same email: We're so happy you applied with our company. We decided to go with a different candidate. Good luck getting professional experience because no one will hire you unless you have professional experience.
I worked at the Alamo for five months before I got my current job as a content creator for a marketing company. Now I get to write every day, and it's awesome. But back at the Alamo, when I was working until 1 a.m. and delivering food during the A Star is Born trailer for the 20th time, it felt less than awesome. In the end, I grew to enjoy working at the Alamo, and I miss a lot of the friends I made there. But I also have a deep-seated grudge against Bradley Cooper that I don't think will ever go away.
For me, a big part of my post-college life has been dealing with the unknown. Often I felt discouraged or inadequate, especially when I couldn't seem to stand out to potential employers. I wish I'd felt more comfortable with knowing I didn't have to have everything figured out, and the world wouldn't end if I worked at a movie theater instead of a marketing firm—especially if I enjoyed the work I was doing. Life should be less about what you achieve and more about appreciating what you have.
Of course, not all of the parts of growing up are big revelations and journeys in self-discovery. For example, I've found that making friends in a new city is super hard to do, and having to clean my own house has led me to look into the price of cleaning services on several occasions.
Life after graduation is tricky and rewarding and tiring—and both so different from what I thought it would be and so predictable. The best tip I have to offer? Buy yourself a reliable vacuum.
Honors Scholar English major Abbey Slattery writes for Dakno Marketing and has survived two major hurricanes since graduating from Northwestern. She lives in Raleigh, N.C., with her husband, Joseph Tolsma '17, a genetics graduate student at North Carolina State University.