Robert Winn
Winn-dow to the Past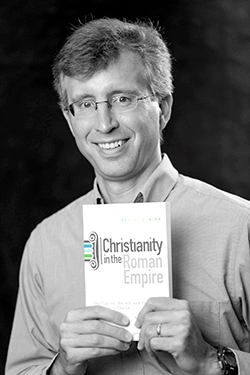 DOUG BURG
You're not originally from northwest Iowa—what brought you here?
My wife and I both grew up in the Philadelphia area—the land of real cheese steaks, great pretzels, hoagies, scrapple, Wawa convenience stores, and the Eagles! Since our marriage we have lived in Ohio, the Washington, D.C., metro area, and Omaha. We moved from Omaha, where I was teaching at Creighton University, to Orange City when I was hired at NWC in 2004.
Did you always love history?
Yes, although my interest in history has always been rooted in the humanities. My favorite teacher in high school was actually my English literature teacher. He was outstanding, and I think I learned more history from him than I did in some of my history classes.
You've taught an honors course this fall on Magic, Science and Religion in Antiquity and the Middle Ages. What did this course cover?
First, a clarification: What I mean by "magic" is not sleight-of-hand tricks for entertainment. Rather, magic refers to widely held beliefs that certain rituals could give people control over their lives and their environment (like ensuring a good harvest, health for their children, and protection against demons). Some of what they were doing we would call science today. In short, this is a class that explores how pre-modern people, at all levels of society, attempted to make sense of themselves and their world.
What are some of your hobbies?
I took classical guitar lessons all through middle and high school, and I still play occasionally. I am a casual runner and biker. I have tried my hand at writing fiction, largely based on stories I used to tell my children. The result was a book, The Song of Anahit. I also love downhill skiing, but sadly there's not much opportunity for it in Iowa.
What is something about you that not many people know?
I have been interested in programming since middle school, when I learned to program in BASIC on a TI99/4A computer. Web development is such a fast-moving and exciting field. I have enjoyed learning the various languages of the web (HTML, CSS, PHP), and I find that I especially enjoy JavaScript in all of its iterations. I think I like web development for the same reason I enjoy reading texts in ancient languages like Greek and Latin: They are both an art and a science.